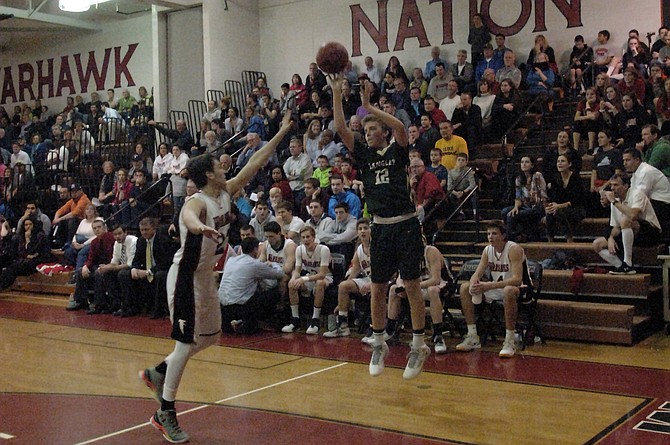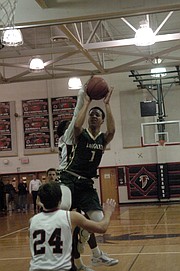 The Langley boys' basketball team dominated Madison in the first half of Friday's showdown for first place in Conference 6, using its size advantage and on-point perimeter shooting to build a 13-point lead.
While the Saxons appeared in control, head coach Scott Newman sensed the second half wouldn't be easy.
"I said at halftime that I thought we were going to have to take a punch from them in the second half," Newman said. "They were going to make adjustments to their press. They did, they rattled us a little bit …"
Pressure defense and an aggressive mentality helped Madison reduce its deficit to as little as two points in the fourth quarter, but an alert defensive play by leading scorer Tavon Tarpley helped the Saxons hold off the resilient Warhawks.
Down by three, Madison had a chance to tie with less than 30 seconds remaining, but Tarpley stepped in a passing lane and snagged the steal. Langley made 2 of 4 free-throw attempts in the final 15 seconds and pulled out a 62-57 victory at Madison High School.
"I slid to the gap, I saw him throw the ball," Tarpley said, "I ran at it and I got it."
The victory improved Langley's record to 10-4 and gave the Saxons sole possession of first place in Conference 6 with a 6-0 mark. Madison dropped to 11-2, including 5-1 in the conference, and had its 11-game win streak snapped.
"It really boosts our confidence, but mentality-wise, we're still hungry," Langley senior Nate Shafer said. "We know it's not even close to where we want to be at the end of the season. We're still hungry. We're going to go into every game like we're the underdogs."
While Tarpley's defensive play helped Langley secure the win, the 6-foot-3 senior guard was also a force at the offensive end. Tarpley, who transferred from Forest Park to Langley prior to his junior season, led the Saxons with 22 points, doing most of his damage in the paint.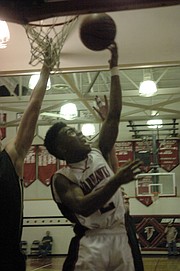 "It's starting to click for Tavon," Newman said. "He is a special player when he's attacking the basket and he can be one of the best perimeter defenders in the region when he wants to. He's come so far, he's matured, and his approach has improved. If he gets his defense going and he does what he does best, which is attack the basket, we're dangerous."
Shafer, a 6-foot-5 senior forward, finished with nine points and 12 rebounds for Langley. Junior guard Jay Goettman made a trio of 3-pointers and finished with nine points. Sophomore guard Colter Carton made a pair of 3-pointers and scored eight points, and junior guard Grant Hughes made two from behind the arc and finished with seven points.
Langley made eight 3-pointers.
"We played great in the first half, I thought, because not only did we pound the ball inside, but when [Madison] collapsed, we kicked the ball out and we were sticking shots," Newman said. "I think we're dangerous when we've got the inside and the outside game going."
Taiga Walker led Madison with 24 points, including 18 in the second half. The senior guard showed emotion on several occasions, letting out passionate screams after multiple and-ones.
"I just think that we played with more passion and aggression as a team," Walker said about the Warhawks' second-half performance
Langley will travel to face Yorktown at 7:15 p.m. on Tuesday, Jan. 19. Madison will play McLean on the road.