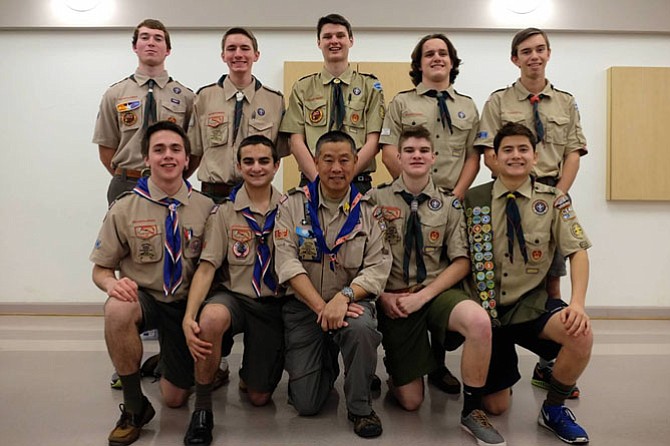 Boy Scout Troop 55, sponsored by St. Francis Episcopal Church in Great Falls, promoted five scouts to the Eagle Rank.
The new Eagle Scouts are Andrew Dudzik, Corey Hodge, Joseph Kee and Paul Youssef, all attending Langley High School; and Nick Dunie who attends Fort Union Military Academy. Each of these Eagle Scouts demonstrated service to the community, leadership and mentored other scouts. In addition, they each planned and executed a complex project as described below.
Andrew Dudzik's project constructed a roof over St. Francis Episcopal Church's utility area to protect equipment. Andrew said, "The most important thing I learned is how to be a follower, as well as a leader. This shows respect for those that are in charge."
Nick Dunie's Eagle project constructed a footbridge over a stream and cleared the trail around the new crossing. Dunie said, "I have been able to apply the leadership skills I learned in Scouting to many other areas of my life."
Corey Hodge led a team that implemented a community-wide collection of children's books for an underprivileged elementary school in Ohio. Hodge stated, "I learned leadership and public speaking in Boy Scouts, and these are incredibly important skills. I credit Scouts for helping me with both."
Joseph Kee is the 100th Eagle Scout for Troop 55. Joseph's project built two cook-top shelves for Restore in Chantilly. Kee said, "The most important thing I've learned from scouting is how to cook. I'll use these skills when I go to college this Fall."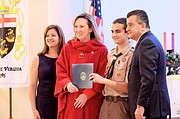 Paul Youssef's project constructed a new staircase in the parking lot at St. Thomas a Becket Catholic Church in Reston to allow parishioners to avoid climbing a muddy hill. Paul stated, "The most important thing I learned from Scouting is discovering who I am. Scouting has provided a template for success and opportunities that no school, occupation, organization or amount of money could ever have offered me."
Each Eagle Scout was recognized for their accomplishments at a formal Court of Honor. Gary Pan, the Scoutmaster for Troop 55, presided over the ceremonies.