Gordon Peyton had a secret, a skeleton lurking in the closet of the proud, lifelong Virginian: He was actually born in Washington, D.C.
"To his great dismay, he would reluctantly admit that he wasn't born in Virginia,"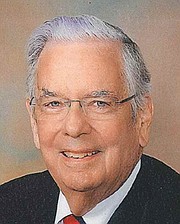 Peyton's wife Jean said with a laugh. "His mother thought giving birth at a hospital in D.C. was more 'fashionable' so that's where Gordon came into the world."
Save for his college years and that brief excursion across the Potomac River, Peyton would spend the next seven decades in the Commonwealth of Virginia devoting his adult years to his family, church and numerous charities. On Jan. 13, the attorney and Commissioner of Accounts for the City of Alexandria died at his Rosemont home following a long illness. He was 74.
Born Gordon Picket Peyton Jr. on Jan. 22, 1941, Peyton grew up in Arlington and Alexandria, graduating from St. Stephen's School in 1958. He attended the University of the South, graduating cum laude in 1962 and received his law degree from Duke University in 1965.
Peyton became a fixture in Old Town, practicing law for more than 50 years at several locations, never more than a few blocks from the King Street Courthouse. Since 1999, he was a partner in the firm of Redmon, Peyton & Braswell.
"I got to know Gordon when I joined Rotary in 1973," said Gant Redmon, Peyton's close friend and legal partner. "He was so kind and considerate to everyone he came in contact with. He epitomized the Rotary motto of 'service above self.'"
Peyton devoted much of his time to pro bono legal work concentrating on the needs of the elderly.
"Gordon did so many things that people don't know about," Jean Peyton said. "He took care of his first grade teacher, Eulia Lee Gardner, from the Washington Street School. She was unmarried and he looked out for her as she became deaf in her later years. When she died, we traveled to Abingdon to be there when she was buried."
According to Jean Peyton, she, her husband and close friend John Everly regularly made treks to attend the funeral of someone with no living relatives.
"Many times we were the only ones at a funeral for an elderly client who had no family," Jean Peyton said. "He wanted to be sure things were done right. He wanted to be sure no one was buried alone."
A faithful Episcopalian, Peyton was a member of Immanuel Church-on-the-Hill for 50 years, serving for many years on the Vestry, including two terms as the Senior Warden.
"Gordon wanted to be a member of the clergy as much as he wanted to be an attorney," Redmon said. "So it was natural that he was appointed by the Circuit Court to perform civil ceremonies. He was very efficient — two minutes without rings, three minutes with rings. We even had a separate door for celebrants to enter our suite and on Valentine's Day the waiting line would extend out and down the hall. Being the discreet fellow that he was, we never knew of the celebrities that he married, but we knew there were many."
Nicknamed "the Bear" for his large collection of bears, Peyton was also well known for his writing skills.
"Dad loved to craft the perfect turn of phrase, writing countless poems, songs and limericks to roast his friends, celebrate birthdays at Rotary and mock judges at the Alexandria Gridiron," said Peyton's daughter Janet. "Some of these limericks are lost to history, but a few have stood the test of time, including the infamous 'All Things Blonde and Beautiful' written by Dad with a group of Immanuel men for our annual Shrine Mont Follies. And Danielle Everly told us this week that a poem Dad wrote for her great-grandfather on the occasion of his birthday still hangs in their home, with the last line being 'May your remains never be at Demaine's.'"
Peyton began his career in 1965 as Assistant City Attorney in Alexandria. From 1967 until 2012, he served as a Chapter 7 Trustee in Bankruptcy for the United States Bankruptcy Court for the Eastern District of Virginia and as the Commissioner of Accounts for the Alexandria Circuit Court from 2001 until the time of his death.
He served as the president of the Alexandria Bar Association, the chairman of the Disciplinary Board of the Virginia State Bar and was a Fellow of both the American Bar Foundation and the Virginia Bar Association. In 1999, he became a permanent member of the Fourth Circuit Judicial Conference.
Peyton served on numerous charitable boards, including the Boards of Trustees of both the University of the South and St. Stephen's School, and as the president of the board of the Alexandria Day Nursery. Peyton was a member of the Rotary Club of Alexandria, maintaining a record of perfect attendance for 47 years.
"Dad was not ambivalent about much in life," said Janet Peyton. "He had all kinds of favorite things: bears, cars, surprises, Guy Lombardo, the Episcopal Church, inside jokes, Carly Simon's 'You're So Vain,' limericks, and perhaps most of all, getting people out of jams. Dad loved being the guy who knew who to call to get the mission accomplished. He loved being the guy who came through for you."
Peyton is survived by his wife of 36 years, Jean Groseclose Peyton, and their five children: Elizabeth Lynch Phillips (Bryan) of Santa Fe, N.M.; Daniel Lynch (Paulette) of Springfield; Janet Peyton (Chris) of Richmond; William Peyton (Betsy) of New York City and Orkney Springs, Va.; and Andrew Lynch (Abbe) of Sammamish, Wash.
He also leaves behind 12 grandchildren and numerous nieces and nephews. He was preceded in death by his parents, Gordon Pickett Peyton Sr. and Mary Campbell Grasty Peyton, and his brother Randolph Peyton.
A funeral service was held Jan. 17 at the Immanuel Chapel on the grounds of the Virginia Theological Seminary. Memorial contributions can be made to Immanuel Church-on-the-Hill, 3606 Seminary Road, Alexandria, VA 22304-5200.
"Gordon impacted the lives of so many people," Jean Peyton said. "He truly was an unsung hero."