DeJuan Robinson would later admit he's not the greatest free-throw shooter. Pressure situations, however, are where the T.C. Williams senior said he thrives.
The Titans trailed Woodson by a point when Robinson drove to the basket and was fouled with 2.6 seconds remaining in overtime. Robinson knocked down both of his ensuing free-throw attempts, lifting the T.C. Williams boys' basketball team to a 79-76 victory on Tuesday at Woodson High School.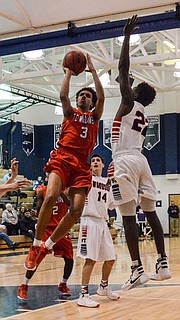 Following a Cavaliers turnover, Titans guard Tavaris James made a pair of free throws with six-tenths of a second remaining to extend the TC lead to three. Woodson missed its final shot attempt at the buzzer.
T.C. Williams trailed 76-75 when junior forward Tyrese Randall forced a turnover, giving the Titans possession with 20.1 seconds remaining in overtime. Robinson attacked the basket in the closing seconds and earned a trip to the foul line, where he would hit the game-winning free throws.
"DeJuan Robinson did a fantastic job stepping up and knocking down those free throws," TC head coach Bryan Hill said. "He had a bunch of big plays around the basket that I thought were key, so that demonstrates his senior leadership and I'm really glad to see DeJuan Robinson really stepping up and being more of a leader on our team both on and off the court. I'm really excited about seeing him win a game for us like that today.
"... He's hitting big shots for us around the bucket, he's slashing, getting rebounds, knocking down free throws to win games. That's the kind of stuff as a 17-year-old kid you want to be able to talk about that to [your] kids when [you're] 30 — 'I won this game, I knocked these shots down.' It's the kind of stuff you remember forever, so I'm really glad that he was able to have that experience tonight."
Robinson said he doesn't consider himself a solid free-throw shooter, but did say he was "confident" going to the line.
"I'm actually not [a solid free-throw shooter]," Robinson said. "That's the funny thing. It's just clutch situations. As a senior on the team, I just had to step up and lead. ... When the pressure is up, I like to step up."
Robinson finished with five points, including a three-point play in the second quarter.
"He's a good kid and I think he would like to score more," Hill said, "but we need him to be scrappy and rebound and defend and he's accepted that role and done a great job with it and I'm really proud of him."
Robinson's free throws put the finishing touch on the Titans' come-from-behind victory. Woodson led by as many as 11 points in the second half, when a 3-pointer by senior guard Seamus Maloney gave the Cavaliers a 46-35 advantage with 2 minutes remaining in the third quarter.
A three-point play by Matt Ayoub gave Woodson a 63-53 lead with 3:32 remaining in the fourth quarter.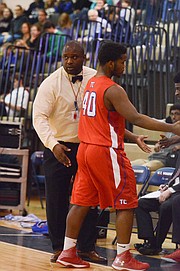 The Cavaliers managed just three free throws for the remainder of regulation, however, and did not score a point during the final 2 minutes, 3 seconds.
Fahmmi Mamo took over in the fourth quarter for the Titans. The junior guard scored 14 of TC's 23 points in the quarter, and his second 3-pointer of the period cut the Woodson lead to 64-62 with 2:31 remaining.
"Once the first one went in, I knew the second one was going to go in," Mamo said. "I'm more of a consistent shooter, rather than taking random shots. It felt great."
Mamo led the Titans with 23 points, including 19 in the second half.
"He does have the green light to shoot the ball within reason," Hill said. "He's not a selfish player — he lets it come to him. He hit some big ones tonight; he hit some big ones a couple of games back, so I'm not surprised by that."
Mamo's free throw with 1:44 remaining cut the Woodson lead to 66-63. Senior guard Jordan Jones knocked down two free throws with 1:27 on the clock and James made 1 of 2 from the line to tie the score at 66 with 1:07 remaining. Woodson had a chance to win at the end of regulation, but Maloney's shot from near halfcourt rattled out at the buzzer.
In overtime, James scored seven of TC's 13 points.
"We took the right shots and we kept our poise," James said about the Titans' comeback. "Instead of rushing to get back in the game, we ran through our sets and got the right shots within the offense."
James finished with 18 points despite sitting out for more than 5 minutes after crashing into the wall and hitting his head with 5:06 left in the first quarter. James said he was initially worried he might have a concussion, but after going through some tests, including up-downs and push-ups, he returned to the game with 7:27 left in the second quarter.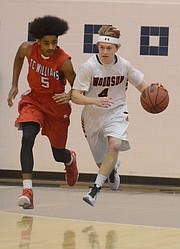 "When I got back on the floor," James said, "I just felt like it was back to normal."
Jones finished with 14 points for TC, and freshman JaQuan Johnson-Terry scored 10, including a pair of 3-pointers in the fourth quarter.
TC finished the first half of the Conference 7 schedule with a 4-3 record.
Woodson fell to 7-8 overall and 3-4 in the conference.
"All the little plays at the end, every time we made a mental error, they burned us," Woodson head coach Doug Craig said. "The margin for error in this district is very small. We can't continue to make as many mental errors as we make and win games. We're not good enough to overcome that. We have to find a way to tighten up some of our execution stuff. We took a lot of bad shots down the stretch, missed some free throws, had a couple turnovers [and some] tough foul calls that really hurt our team."
Woodson lost despite making 14 3-pointers.
Junior guard Jason Aigner finished with 26 points and six 3-pointers, including a trio from behind the arc in the second quarter as the Cavaliers built a 33-25 halftime lead.
Senior guard Matt Ayoub scored 23 points for Woodson, including five 3-pointers, and reached 1,000 career points with a transition bucket in the third quarter.
Maloney added 14 points and a trio of 3s.
Ayoub also attributed the loss to "mental errors."
"They had to come foul us," Ayoub said, "and we just decided to shoot the ball instead of hold it."
T.C. Williams will host Lake Braddock at 7:15 p.m. on Thursday, Jan. 21. Woodson is scheduled to travel to face Mount Vernon at 7:15 p.m. on Friday, Jan. 22.