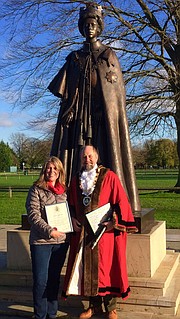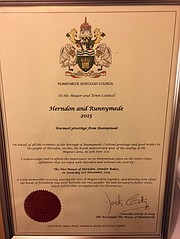 In November of 2015 Herndon's Vice Mayor Jennifer Baker visited England and met Derek Cotty, Mayor of Runnymede, Herndon's sister city. Runnymede's Mayor Cotty worked to ensure the success of the 800th commemoration of the Magna Carta, a document which became a symbol of legal rights and freedoms. Months later in January, the Herndon council met to recognize the works of now retired former mayor and state delegate Tom Rust and celebrate its Town Incorporation Day.
On Jan. 12 at a public hearing the Herndon Town Council approved a proclamation honoring "Herndon Town Incorporation Day." "Herndon celebrates 137 years as an incorporated town today. Herndon has always been proud of its heritage and rich history as a rail and dairy town - and there has never been a more exciting time to be a Herndonian than today," said Lisa Merkel, Mayor, Town of Herndon. "We are actively seeking proposals to revitalize our small town downtown, and the crane is up and for construction at our future Metro stop - bringing us full circle as a rail town. Herndon is ready for a bright future!"
The Herndon Depot was constructed in 1857 as a stop on the Alexandria, Loudoun and Hampshire railroad. In 1858 the town received a post office named for Captain William Lewis Herndon, a Virginia-born sea captain who had heroically gone down with his ship after directing passengers and crew into lifeboats. The Depot building was listed on the National Register of Historic Places in 1979.
The town was legally incorporated in 1879, keeping the name Herndon, and the first town council meetings were held at the depot. Although the population was low, area farmers made Herndon their market center, with notable success. Inside the Town of Herndon is Runnymede Park, the Town's 58-acre natural park, which contains wooded areas and a large meadow. It boasts over 450 native plant species, diverse wildlife habitats, and the Sugarland Run stream.
Today, Herndon sees foot traffic and bicycles through the town on the Washington and Old Dominion trail, which becomes more popular on weekends and warmer months. On Tuesday, Sept. 9, 2014, Mayor Merkel and the Herndon town council celebrated the completion of installation of lights along the W&OD trail.
Phase 2 of the Silver Line will bring Metro to Herndon, Dulles Airport and beyond and is expected to be complete by 2020. The Herndon station will be constructed in the median of the Dulles Toll Road and connect to the town on its north side via a pedestrian bridge. A suburb of Washington, D.C., the Town of Herndon is the 3rd largest town in the Commonwealth of Virginia and home to over 23,000 citizens.
If you visit the Town Municipal Building at 777 Lynn Street, you will see displayed several relics and documents highlighting the ties between Runnymede and Herndon. The Herndon Historical Society will meet on Wednesday evening February 10th at the Depot building. The special Annual Meeting will include membership business, voting for open Board positions and amended Articles for Incorporation, as well as discussing the impending changes to the bylaws and efforts to secure 501(c)(3) designation. Herndon resident Richard Downer will give a brief presentation on what he has discovered about W&OD Freight Motor #50, a historic Virginia engine is still operating in Iowa. To learn more about Herndon Historic Society, visit herndonhistoricalsociety.org.