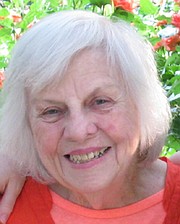 Mary Jane Tucker of Alexandria died with her family by her side on Saturday, May 23, 2015. She was 81 years old.
Mary Jane was born on April 8, 1934 in Greenville, N.C., to the late Ottis Onward and Minnie Mae (Smith) Ange. She married her high school sweetheart, and both graduated from East Carolina University in 1954. She became a high school teacher in Columbia, N.C., and her husband ultimately became an officer in the U.S. Air Force. Together and with their children, they lived throughout the United States and abroad. After their children were in college, Mary Jane dedicated herself to teaching students at Hollin Meadows Elementary School in the Fairfax County Public Schools, where she retired after 27 years. After retiring, she devoted herself to her family and local gardens and libraries.
She is survived by her beloved husband William Lester Tucker; loving sons and daughter, William, Robert and Lee Ann; daughter-in-law Sylvia; and adoring granddaughters, Adrienne, Kiera and Celia.
A Memorial Service — entombment and committal services — will take place on Friday, Jan. 29 from 1-2 p.m. at Fort Myer's Old Post Chapel next to Arlington National Cemetery, Arlington.
Following the Memorial Service and entombment, a reception will be held at 2 p.m. at the Women in Military Service for America Memorial, located at the Ceremonial Entrance to Arlington National Cemetery.
In lieu of flowers, her family wishes gifts in Mary Jane's honor be made to: Columbia University Hospital - Division of Hematology/Oncology, New York, NY / Dr. Suzanne Letnzsch's Research Fund for Amyloidosis online or by check via
https://giving.columbia.edu/giveonline/?schoolstyle=99991&alloc=22281 / check payable to Trustees of Columbia University with notation for Dr. Lentzsch Research Fund; or to the Lewisboro Library, South Salem, NY, via www.lewisborolibrary.org or at15 Main Street, PO Box 477, South Salem, NY 10590.
For further information on the Arlington National Cemetery, visit:http://www.arlingtoncemetery.mil/#/