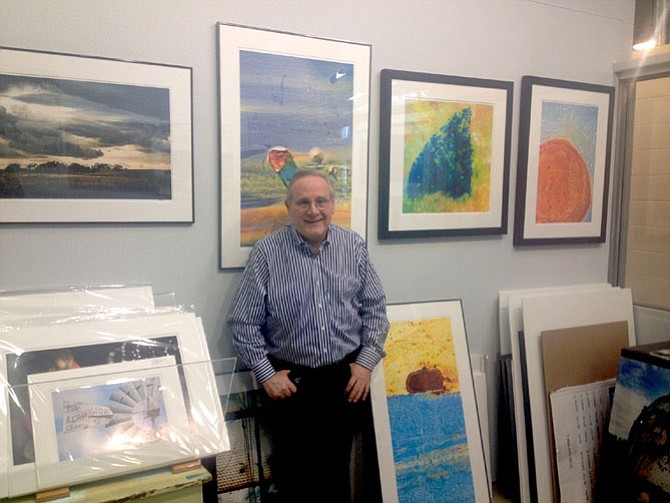 "Muted," a new art exhibit showcasing the serene and subdued, hangs this month in the Art League Gallery. The works on display range from photography to painting to sculpture and were selected by Allison Nance.
Nance, curator of the Hillyer Art Space in Washington D.C., chose 93 art pieces from 485 submissions. She explained her decisions during a reception at the Art League gallery on Thursday night, Jan. 14. "I thought a lot about subject matter and the way the pieces personally made me feel," said Nance.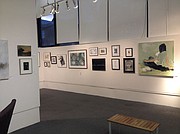 Nance told viewers that she chose art that was "muted" in various ways, whether through a subdued palette or other subtleties. A photograph, "Hope," by Alexandria resident Pete McCutchen won Best in Show, and several other artists received Honorable Mention, including Amanda Marie Harner, Pattee Hipschen, Thomas Roberts, Phyllis Rowe, Wilford Scott, and Christy West. One of the things that Nance said made her gravitate toward "Hope" were the different emotions it evoked for her.
McCutchen took the photograph at the Trans-Allegheny Lunatic Asylum in West Virginia along with many other potential submissions. However, he felt that "Hope" best fit into the theme of "Muted." McCutchen's studio is filled with large, brightly colored pictures. He acknowledged the irony of being rewarded for a "muted photograph" when most of his work is just the opposite.
McCutchen joked, "Because the theme was 'Muted,' my wife said, 'you might as well just skip this month,' and I took that as a challenge."
McCutchen has a long relationship with photography. His earliest memories of photography are from when he was 10 years old and would explore West Virginia with his grandparents, taking pictures and then developing them in the darkroom. Since then, McCutchen has had work in juried shows in Athens, Los Angeles, New York, and other cities. He enjoys the Torpedo Factory because he is surrounded by other artists. He is particularly appreciative of the opportunities the space gives to the young and aspirational.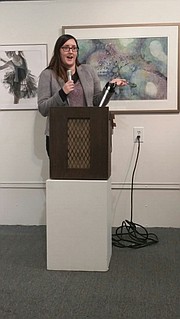 McCutchen was excited to have a juror as experienced as Nance. While he was glad to win Best In Show, he is equally fulfilled by his passion for photography. "At the end of the day," he said, "It's really all about the work."
Nance has an extensive background in curatorial work as well as jurying. She grew up with a mother who she said encouraged her creative side. It was not until high school that Nance developed an interest in photography and later achieved a photography degree from East Carolina University. She particularly appreciates the art community in Alexandria for the close-knit relationships among artists.
Nance was particularly enthusiastic about the theme of this exhibit: "I felt good about the theme. I personally respond to work that's quiet. You look at it once from a glance, and then you feel compelled to look at it again and again."
Patrons were appreciative of the artwork in the gallery as well. Donna Pumphrey, a regular visitor to the Torpedo Factory, said of the pieces: "They are all amazing. I am able to see beauty in all of them."
Other visitors had varying opinions. Melissa Wong and Joe Dellutro discovered the gallery by coincidence while going for a walk. They said they were intrigued by the artwork and would definitely return.
Gallery Director Whitney Staiger was pleased with Nance's work on the exhibit. Staiger explained that the Art League often uses jurors from outside of the immediate community to judge artwork to ensure fairness and equal exposure for the artists involved. She selected Nance because she was impressed with her work in the Hillyer Gallery.
She said of the "Muted" exhibit, "You walk in, and there's a calming sense that you can have an intimate moment with each of the pieces."
Staiger believes these experiences are particularly crucial when following the chaos of the holiday season. Ultimately, Staiger lauds the effort her colleagues put into the exhibit.
"I am truly grateful for all of the hard work that Allison did in jurying this exhibit, and I cannot express how thankful I am for all of our volunteers who helped make this possible, because without them, we couldn't put on such a beautiful and amazing show," she said.
"Muted" will be on display at the Art League until Jan. 31.