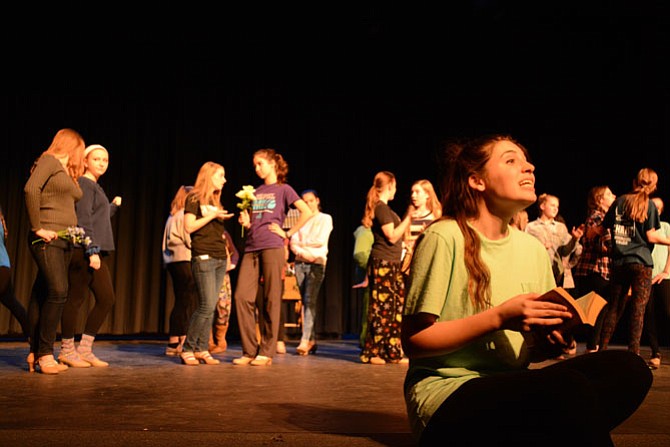 Since October, Lake Braddock junior Josh Lee has been transforming into Beast. He's not 'a beast,' though he stands fairly stout at a formidable six-plus-feet-tall; Lee is cast as the dark and complex title character in his school's Musical Theatre production of Disney's "Beauty and the Beast."
"I definitely identify with a lot of his insecurities," Lee said. "Like he's seen as over-powerful."
Lee most recently played the larger-than-life mother Edna Turnblad in last year's musical "Hairspray."
"I'm usually comic relief," said Lee. "Beast is more dark and serious. He has a character arc."
Playing opposite, and independent, from Lee is senior Kirsten Chase as Belle.
"It's every little girl's dream come true," she said. Making the role her own, Chase wants to bring out the more powerful characteristics of Belle.
"She's her own person," Chase said. "She's independent, a strong woman. I try to find that in myself and put it onstage."
Chase said the Lake Braddock production draws significantly from the Broadway version, on which it's based, but with additional choreography from Elizabeth King. King's son Tyler appears in the production as the bull-headed and burly Gaston, vying for the affection of Belle and the termination of Beast.
Hayfield Secondary School put on its own "Beauty and the Beast" in November 2015, but Lake Braddock director Mary DeMarco said the performance proximity is neither a concern nor an inspiration for this show.
"This isn't like football," she said. "There's a lot of great shows out there and we're supportive of each other."
"Beauty and the Beast" requires a robust cast, which helps DeMarco develop the program starting with eighth-graders. It's also a big, popular show to follow up "Hairspray."
"It was such a huge success," DeMarco said. "This is Disney, it's fun for people -- we just want to continue the party we started."
Disney's "Beauty and the Beast" runs at Lake Braddock Secondary School's Little Theatre, 9200 Burke Lake Road, Jan. 28-31. Shows Thursday and Friday at 7:30 p.m., Saturday at 2 p.m. and 8 p.m., and Sunday at 3 p.m. Tickets are $12 and available online ahead of time at www.brownpapertickets.com/event/2478480.