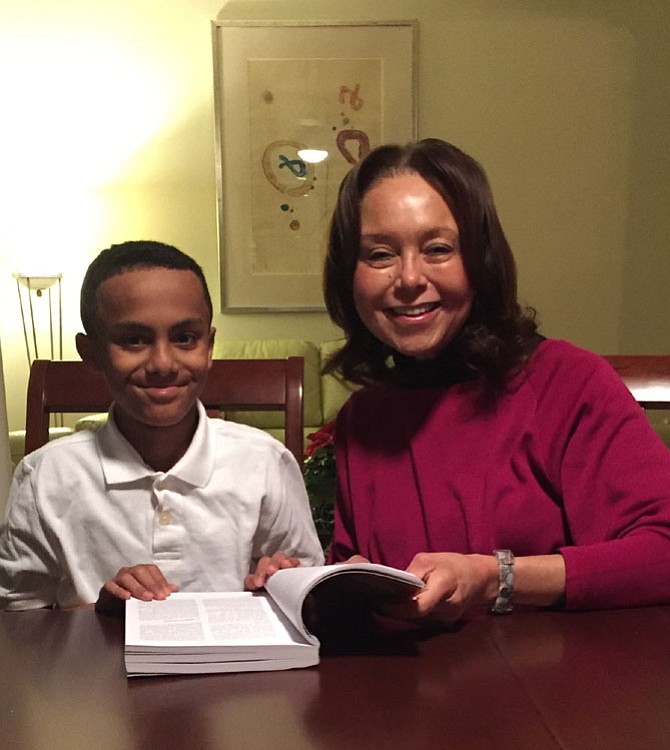 From Yahia:
I have been working with Ms. Sharon for about three years and it is a lot of fun. My favorite moment was when we went to IHOP and shared stuff about ourselves. And meeting at the library every Friday. Ms. Sharon and I learned new words, because we read books above my reading level. Ms. Sharon would help me pronounce and tell me the meanings of words. Ms. Sharon also helped me write cursive when I was in the 3rd grade. Ms. Sharon and I read "Curse of the King Tut Mummy" and "The Shark-Headed Zombie;" and we read half of "Hugo" then watched the movie.
Ms. Sharon helped me improve my reading and gave me more knowledge about the meaning and spelling of words. We also did some math together. I taught her some math skills that can be useful in life and she taught me some reading skills that can be useful in life.
Ms. Sharon is nice, caring, and loving. She is nice, caring and loving, because every time she picks me up for our lesson, she says, "how are you and what did you do at school?' The Wright to Read program is an awesome program to be in, because it stays in contact with your teachers to see what you are doing in class. Wright to Read is also great, because we can go down to their library any time and get some new books. I love being in the program, because it helps Ms. Sharon and me be connected at something in common. Wright to Read is an awesome program.
From Ms. Sharon:
I have been mentoring Yahia for three delightful years. I always look forward to seeing him on our session days. (And I think he feels the same way.) We talk about so many things — what's going on in school, what he does when he hangs out with his friends, and his adventures with his family.
Yahia has made tremendous progress to date. He has always been a good reader (out loud reading); he reads with great expression and it was no wonder that his teachers choose him to read to younger students at school. He tackles new words with energy and curiosity and he's open to reading different kinds of books and stories — mysteries, adventure, science and nature. This is really great, because it opens his imagination to new information and possibilities.
I love working with Yahia, because he is flexible and open to learning new things. One big challenge has been focus. We used to talk about this a lot, but now we hardly need to mention it because he can clearly see, and articulate, how important focus is to the success he strives for in his classes.
I admire the Wright to Read program so much, because it is such a smart concept. The fact that the students are recommended to the program by their teachers and that Wright to Read takes such care in selecting the mentors and pairing them with the students and their families is a major reason why my partnership with Yahia has been so successful. I have met many of Yahia's teachers and have consulted with them on reading material and on ways to best help Yahia succeed in class. They have been unfailingly helpful.
Finally, the effort that the program managers expend to engage the families, students and all the great resources Wright to Read has to offer is first rate — the trainings, picnics, parties at IHOP. All of this create a sense of community and mutual support.
Wright to Read provides volunteer-based one-on-one sustained literacy tutoring and mentoring relationships to City of Alexandria elementary school children in need, and collaborates with families, schools and community partners to create a comprehensive support network that guides each child to success. Wright to Read is a member of the Alexandria Mentoring Partnership (AMP). AMP was created in 2006 to ensure that quality mentors and mentor programs are available for Alexandria's youth and young adults in need. There are 11 professionally managed programs in the partnership that need adult mentors. To learn more about Wright to Read, visit www.wrighttoread.org or to learn more about AMP, visit: http://www.alexandriava.gov/Mentoring.