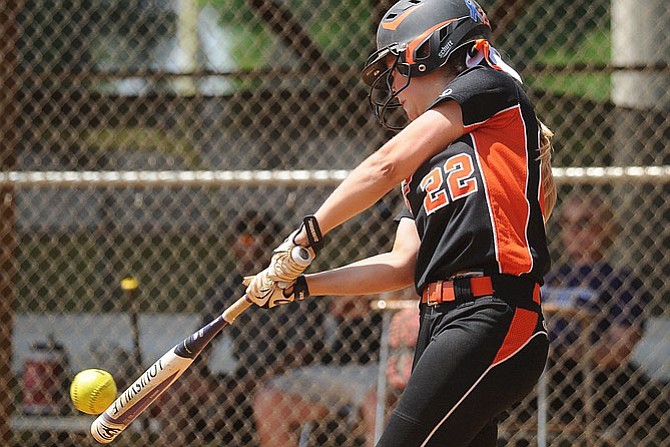 A snowstorm caused Fairfax County Public Schools to cancel classes and athletic events for more than a week. Some areas received more than 20 inches of snow during the weekend, according to the National Weather Service, creating a break from competition for local high school athletes.
Hayfield junior softball player Brittany Wieland, a second-team all-region second baseman for the Hawks in 2015 who will move to catcher this year, shared her storm experience via email with The Connection.
Q: In what city do you live?
A: I live in Fairfax (or Alexandria).
Q: How did the amount of snowfall in your neighborhood compare to what you thought would fall?
A: I never expected this much snow to fall, and while there may be only 1 or 2 feet talked about, since the plows came through (due to the lack of open space in my neighborhood) there's hardly any areas that aren't a good 3-4 feet deep.
Q: What, if any, preparations did you and your family make for the storm?
A: My family keeps a pretty good stock of food around all the time so we were well prepared for this storm.
Q: What did you do to pass the time during the storm?
A: During the storm I spent a lot of time doing homework, spending time with friends, and watching Netflix (maybe more than I should have).
Q: Did you play in the snow? If so, what did you do?
A: My teammate/friend, Sienna Williams, and I threw a couple snowballs around, but nothing big. We took some cool pictures also, but I haven't gotten a chance to go sledding.
Q: Were you able to exercise/practice during the storm? If so, what did you do?
A: On Wednesday night when the original snowfall fell, I was actually at a travel softball practice for my organization, the Vienna Stars. Once we got a good workout in, we were quick to get home and safe before the real danger started. Since then, however, I haven't been able to do much working out or practicing besides a few swings in the mirror every day.
Q: Do you play a winter sport at Hayfield? If not, are you preparing for the softball season?
A: I do not play a winter sport at Hayfield, but our softball team has been doing workouts all winter with the baseball team and we had some green days in the fall so it's been a long road of preparations.
Q: Are you interested in playing college softball? If so, are you committed anywhere?
A: I am interested in playing softball in college. No, I am not committed anywhere.