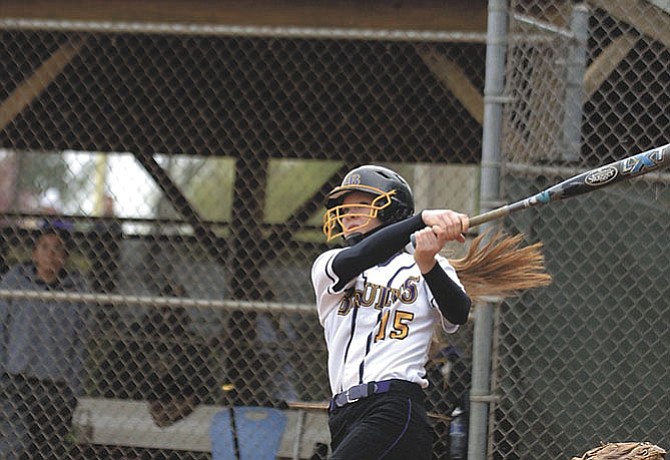 A snowstorm caused Fairfax County Public Schools to cancel classes and athletic events for more than a week. Some areas received more than 20 inches of snow during the weekend, according to the National Weather Service, creating a break from competition for local high school athletes.
Lake Braddock senior Caroline Jones, a two-time second-team all-region catcher who will play softball at Villanova University, shared her storm experience via email with The Connection.
Q: In what city do you live?
A: Fairfax Station.
Q: How did the amount of snowfall in your neighborhood compare to what you thought would fall?
A: I am always the person that underestimates how much snowfall we are actually going to get, so I guess it didn't really register with me that we had a blizzard coming and that we were going to be getting this much snow. I was expecting around a foot or so, but when it kept snowing and I watched it pile up on my back deck, I knew I was way off on how much we were actually going to get.
Q: What, if any, preparations did you and your family make for the storm?
A: My family went to the gas station and filled up all of our cars and got gas for the snow blower as well. Also, my mom went to the grocery store and bought the necessities, while also stocking up on my favorites: Dr. Pepper, oatmeal and bananas.
Q: What did you do to pass the time during the storm?
A: To pass the time during the snowstorm I spent most of my time on homework as I had a government project that had to be submitted electronically on Monday. But when I wasn't doing homework, I was helping to clear off my driveway of all the snow and spending time with my family.
Q: Did you play in the snow? If so, what did you do?
A: I did play in the snow! I have two elementary-aged kids that live across the street from me, so I went sledding with them down my street, made snow angels, and had a snowball fight. One of my favorite parts of a snowstorm is when it is over and all the neighbors are outside clearing off their driveways. It is so great to see everyone coming together to help one another and to catch up with people you haven't talked to in a while.
Q: Were you able to exercise/practice during the storm? If so, what did you do?
A: The Wednesday before the blizzard hit, about 1 inch of snow fell and I was at practice out past Dulles Airport when that started falling. So it took me about 2 1/2 hours to get home that night and that was the first time I had ever driven in snow before, so that was definitely an adventure I will never forget. When the blizzard hit I was limited on what I could do as far as softball goes because I don't have a place inside my house that I could throw or hit. But once my driveway was clear, I was back outside doing tee work and preparing for the spring season.
Q: Do you play a winter sport at Lake Braddock? If not, are you preparing for the softball season?
A: I played varsity basketball for Lake Braddock my freshman and sophomore year, but decided junior year that I was going to focus all my efforts on softball. I am very excited about this spring season and am working hard to be the best teammate and player I can be. I have spent a lot of time in the cages this winter working on my swing and also am working to develop my outfield skills as well. When I'm not training, I go to Zumba to have fun and keep my cardio up. I know all the girls on the Lake Braddock team have worked extremely hard this offseason and we are excited to take the field together this spring and compete for a championship.