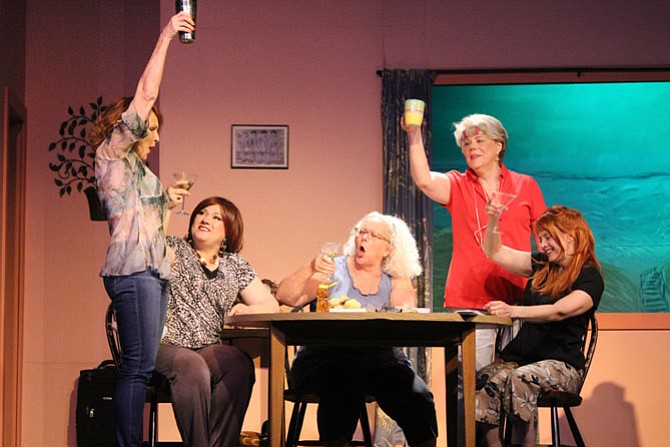 Aldersgate Church Community Theater (ACCT) is presenting "The Dixie Swim Club" from July 8-24. It's the story of five Southern women, whose friendships began many years ago on their college swim team, who set aside a long weekend every August to recharge those relationships. Free from husbands, children and jobs, they meet at the same beach cottage on North Carolina's Outer Banks to catch up, laugh and meddle in each others lives. It's a little bit of "Steel Magnolias" meets "Same Time Next Year," but it resonates with notes of "Golden Girls" and even "On Golden Pond."
As their lives unfold and the years pass, these women increasingly rely on one another, through advice and raucous repartee, to get through the challenges (men, sex, marriage, parenting, divorce, aging) that life flings at them. And when fate throws a wrench into one of their lives in the second act, these friends, proving the enduring power of teamwork, rally round their own with the strength and love that takes this comedy in a poignant and surprising direction.
Producer Jean Coyle said this is a story of lifelong friendship growing ever deeper despite very different personalities among the women. "There are some hilarious moments, as well as some truly poignant ones," she said. "The audience will identify with the characters and laugh and cry with them as if they, the audience, were right in the middle of the Pemberton College Swimming Team. I hope the audience will leave pondering their own friendships and those they love — and remember to tell them of that love."
Director Eddie Page said he decided to direct "The Dixie Swim Club" because, growing up in Hampton, Va., he was always traveling to Nags Head, N.C., in the Outer Banks. "In fact, for many of those years, it was a "guys" weekend to mile marker nine at the See Sea Hotel. When I first started reading the script it was so contagious I couldn't put it down."
He added: "Good friends stick together through the good and bad times, but friendship doesn't just happen, it has to be maintained. These ladies can teach us all something about what we need to do to keep these lifelong bonds strong."
As far as challenges, he said the play takes place over a 32-year period and the actors have to "age" through this time in looks, tone, and attitude. "Getting that balance correct is both a challenge and an opportunity to explore how we age."
He added: "The play is a celebration of friendships — the kind that last a lifetime and endure through joy and hardship. The audience should feel like the sixth silent roommate — right there in the beach house."
Janette Moman plays the role of Dinah Grayson, a sharp-witted, wise-cracking, high-powered Southern lawyer who enjoys these weekends with the girls to let her hair down. "She enjoys her martinis and has not been very successful when it comes to love and relationships until midlife," she said. "She and Lexie have a special bond being the only two in the group who have not had children. She considers these ladies the only real family she has and finds ways to take care of them when they aren't aware of it."
She said just like the Dixie Swim Club, relationships among friends are complex. "And my relationships with this wonderful cast of women has had its ups and downs. We have laughed, we have cried, we have dealt with each others' weaknesses, benefited from each others' strengths, and learned that togetherness and understanding make us better."
As far as audience takeaways, she said: "I believe audiences will appreciate this show because these are strong women who are resilient and smart, powerful, yet vulnerable. Friends make you stronger. Relationships are what life is all about."
Lise Downing plays the role of Jeri Neal McFeeley, the most upbeat and empathetic of the characters. "Jeri Neal's life changes along the way bring her from naive innocence to grounded maturity," she said.
She said it was a challenge "Adapting my dry New England humor and realist attitude to Jeri Neal's perky Southern optimism ... I hope people are enticed to take a weekend out of their busy lives to stop and smell the biscuits."
Lorraine Bouchard plays the role of Vernadette Sims, a fun-loving gal who enjoys the annual special weekends as a great escape from the black cloud of rotten luck that follows her.
"I adore Vernadette. She's feisty. She embraces who she is and stands up for what she believes. I am very lucky to play a gal who can make you both laugh and cry," she said.
She added: "I hope that the audience members will reach out and call their old buddies. Treasure those rare, long friendships that cheer us on and support us along the bumps in our lives."
Tina Anderson plays the role of Sheree Hollinger, the cheerleader, the All-American mom, group leader, health nut, and eternal tomboy in the group. "Seriously, I can really identify with Sheree, and I really wish I had her energy," she said.
She added: "I hope that the audience is so delighted by this bone-tickling, heart-warming story of lifelong friendships that they will feel compelled to re-connect with old friends after the show."
Aldersgate Church Community Theater (ACCT) is presenting "The Dixie Swim Club" from July 8-24. Showtimes are Fridays and Saturdays at 8 p.m.; Sunday matinees at 2 p.m. Tickets are $12 and $15. Aldersgate Church Community Theater is located at 1301 Collingwood Road, Alexandria. Visit http://acctonline.org.