Tom Harvey, owner of Hollin Hall Automotive located at 7926 Fort Hunt Road, presented a check on June 20 to Jim O'Farrell, race director of the 2ndAnnual 9/11 Heroes Run.
The Heroes Run is being held on Saturday, Sept. 10, at 9 a.m. at Carl Sandburg Elementary School on Fort Hunt Road and honors the local first responder and military communities. Last year's race had more than 1,500 runners, walkers, volunteers and spectators along with dozens of corporate sponsors.
The 9/11 Heroes Run is a 5K race series held each September in more than 50 cities and towns across the United States with the support of local volunteers and the Travis Manion Foundation (TMF) (www.travismanion.org). Its purpose is to bring communities together to remember those lost on 9/11 and in the wars since, honor the sacrifices of military and first responders, and raise funds to provide needed support for them.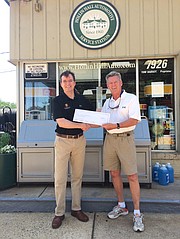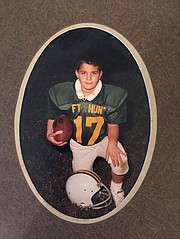 Travis Manion lived in the Fort Hunt area until age 10. He attended Hollin Meadows Elementary School, played football for Fort Hunt Youth Athletic Association and lived in a house just a few blocks from Hollin Hall Automotive. He attended the Naval Academy, where he was a top wrestler, leader and individual known for being a midshipman who consistently demonstrated moral courage, integrity, leadership and service. He was a Marine Corps 1st Lieutenant in 2007 and member of the Marine Corps' 1st Reconnaissance Battalion when he was killed in Iraq by a sniper while pulling two fellow Marines to safety during an ambush. Due to his actions, each of his teammates survived the firefight and Manion was posthumously awarded the silver star. His family founded TMF to honor his sacrifice and the sacrifices of all military members and first responders.
According to Jim O'Farrell, "Travis Manion lived by the motto, 'If Not Me, Then Who …' and through the 9/11 Heroes Run, we hope to provide a community event where people can come out, have fun and remember those we lost on 9/11 and since then."
O'Farrell, who has lived in the Fort Hunt area since 1996, also attended the Naval Academy and his roommate was a member of the elite SEAL Team Six when he was diagnosed with a brain tumor. After his roommate died, O'Farrell vowed to dedicate his spare time to doing the things his roommate would have done, like starting a 9/11 Heroes Run.
Harvey had similar reasons for wanting to support the Heroes Run. Harvey's family has a history of military service. His dad landed on Omaha Beach in the deadly first wave on D-Day, June 6, 1944. For 50 years, Harvey didn't know exactly what his dad had done in World War II, until an article was written by a fellow soldier to commemorate the 50th Anniversary of D-Day that mentioned his dad. Military service continued in Harvey's family when his oldest brother, Butch, became a Force Recon Marine during Vietnam. He died while attempting to rescue his fellow Marines who had become trapped behind enemy lines.
According to Harvey, "I'm proud to sponsor the 9/11 Heroes Run as a way to say thank you to the men and women who serve our country on a daily basis both past and present. And the Heroes Run is a terrific event too."

The theme of the event is to"Honor the Fallen By Challenging The Living."
This year's race proceeds go to TMF, Fairfax County Explorer Post 2252, which meets at West Potomac High School, and the Armed Services Arts Partnership (ASAP). Race Committee members include: Cindy Anderson, Karin Kulinski, Walt Hogan, Susan French, Elaine Woods, Steve Farson, Jim Clautice, Mark Tierney, and Paul Zippel. The local 9/11 Heroes Run is supported by members of the Fairfax County Fire Department, Police Department, the Fort Hunt Youth Athletic Association, Alexandria Cars & Coffee and dozens of corporate sponsors including IHOP, Starbucks, Safeway, Mercedes Benz of Alexandria, Enterprise Rent-A-Car, the Village Hardware and Hollin Hall Automotive.