Where and When
Cirque du Soleil "Kurios – Cabinet of Curiosities" at Tysons II, The Lerner Town Center, 8025 Galleria Drive, Tysons.
Performance July 21 to Sept. 18, 2016.
Tickets $39-$170. Tuesday-Thursday at 7:30 p.m., Friday at 8 p.m., Saturday at 4:30 p.m. and 8 p.m. and Sunday at 1:30 p.m. and 5 p.m.
Call 1-877-9 CIRQUE (1-877-924-7783 or visit http://www.cirque...">cirquedusoleil.co...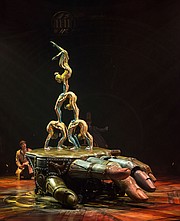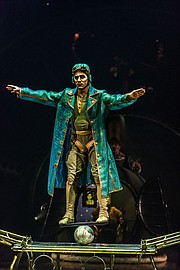 The dazzling, fantastic world of Cirque du Soleil's "Kurios – Cabinet of Curiosities" will be under the famous blue-and-yellow Cirque du Soleil Big Top at Tysons II. It promises to be an astonishing journey meant to open the mind and imagination. And it is all live.
"Nothing is predictable in this magical, romantic, very ingenious world of dreams," said Michel Laprise, artistic director behind Cirque's "Kurios." Laprise made clear that the show "is meant to transport both young and old into a steampunk fantasy world where all is possible." It is a world not needing computer generated animation or 3-D effects. The real-life cast of performers, "is taking daring risks right before everyone's eyes," said Laprise.
"Kurious" is meant to transport the audience into an alternative world full of characters conjured into life by a Seeker who becomes the Master of Ceremonies. He believes there are invisible worlds waiting to be connected to the curiosity in everybody.

In a show that Laprise calls "wild and free," the Seeker is helped by Mr. Microcosmos with a fanciful collection of otherworldly, hybrid characters. They perform in an eccentric large-scale, steampunk fantasy with working mechanical marvels. It all takes place under the colorful 62-foot-high Cirque du Soleil Big Top with its capacity to seat 2,500.
What will pop out, float down from over 40 feet into the air, or appear out of nowhere will be contortionists, acrobats, large hand puppets, aerial swinging bicyclists, comic acts, flying performers, an invisible circus, trampoline net performers, chair balancing acts, an upside-down world full of mirrors to name just a few of the many acts. There will also be arcade-like performers, such as an accordion man and others.
There will be well over 400 props and 100 unique costumes to further express, all without words, what is happening before the audience. Even the hard-at-work stage-hands will be visible and in costume. And if the weather permits, there will be artists up on the exterior of the Big Top greeting everyone.
"The show was created and is performed so that the audience will not miss their computer screens and smartphones," said Laprise. "What if by engaging our imagination and opening our minds we could unlock the door to a world of wonders?"
Laprise added that he wanted the audience "to feel close and connected with the performers and asking themselves 'how do they do that?'"