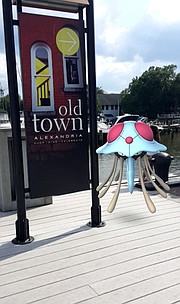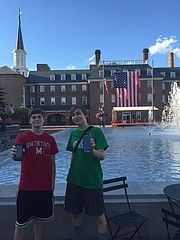 Across the street from Pop's Ice Cream, on a path that runs through Oronoco Bay Park, even down the road from the VéloCity Bicycle Cooperative on Del Ray's Mt. Vernon Avenue — these are all places that digital creatures, known as Pokémon, can appear in the new smartphone game "Pokémon Go."
The game, created by Niantic, Inc. in collaboration with Nintendo, is a spin-off of the original Pokémon game series created in 1996. The game uses smartphone cameras to overlay the digital creatures onto the real world allowing players to catch, train, and battle alongside their friends.
The game uses players' GPS locations to determine if there are any nearby Pokémon. Often, players have to venture out of their houses to find and catch them. In addition, many local landmarks such as the Torpedo Factory Art Center on King Street and the fountain infant of the Alexandria Capitol Building are what is known as "Pokéstops." Players can seek out these places in the real world and replenish items and earn rewards in the game.
Sophocles Graphos and Mike Gray from Fairfax were among just a few people walking around the Old Town Waterfront late on Friday night, July 8, around 11 p.m. They were out to catch Pokémon. If you asked many of the other people in the area, they would say the same. "Within just the last hour I've met so many people," said Graphos, "I've never had a game be so social. To meet strangers and just be like, 'oh, there's some down there? Oh cool, thanks Buddy!' … It's very fun, very fun."
Two passers-by, Aaron and Madeline Rainwater from Arlington, joined the conversation. They were also out catching Pokémon. Asked what her favorite part of the game was, Madeline Rainwater said, "I never actually played the games as a kid, but the way that it's bringing people together and everyone's suddenly 12 again."
According to Business Insider, as of July 8, 3 percent of U.S. Android smartphone owners were using the game daily. That is .5 percent less than Twitter's daily U.S. Android users. "Even at my office, there's like 50 plus people, and I'd say close to 75 percent of us — we're struggling just to do our jobs," said Aaron Rainwater.
Pokémon Go can be downloaded on the iOS App store or the Google Play Store. More information can be found at PokemonGo.NianticLabs.com.