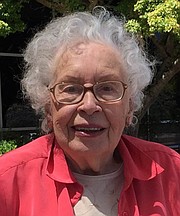 Former Alexandria resident Evalyn Tripp Hutzel, 100, of Medford, Oregon, died July 11, 2016 with her family by her side. She was born in Strathroy, Ontario, Canada, and grew up in Detroit, Mich. She received bachelor's and nursing degrees from the University of Michigan and later, in her 60s, earned a master's degree in health care administration from San Jose State University.
In 1941 she married John M. Hutzel of Ann Arbor, Mich. and subsequently taught nursing at Ohio State University while her husband completed a Ph.D. in entomology. During World War II she lived in Santa Monica, Calif. while her husband, a Navy reservist attached to the 4th Marines, served in the Pacific. Following the war, the Hutzels relocated to Alexandria where she later worked as a pediatric nurse in the practice of the late Dr. Thistle McKee, and was active in Westminster Presbyterian Church as well as the American Association of University Women.
From 1954 to 1956, the Hutzels lived in Karachi, Pakistan where she volunteered as a nurse working in refugee camps and also helped to establish the first American Girl Scout Troup in Pakistan.
The Hutzels eventually moved to Palo Alto, Calif. in 1965 where she worked in dermatology and neurology practices. Subsequently she and her husband lived in Pebble Beach, Calif. before retiring to the Rogue Valley Manor in Medford, Oregon. Following her husband's death in 1989, she performed with a tap dancing group and volunteered at the Rogue Valley International Airport information desk as well as at the Rogue Valley Medical Center library. She was a member of the First United Methodist Church, Medford, Oregon.
She is survived by two daughters, Joy Nathan (Richard) of Arlington, Va., and Cynthia Bryant (Lawrence) of Palo Alto, Calif., as well as her nephew Anson Tripp of Okinawa, Japan.
Graveside services were held on Monday, July 18, in Ann Arbor, Mich. with arrangements by Muehlig Funeral Chapel. Memorial gifts in lieu of flowers may be made to the Health Center Fund, Rogue Valley Manor, Medford, Oregon.
More like this story