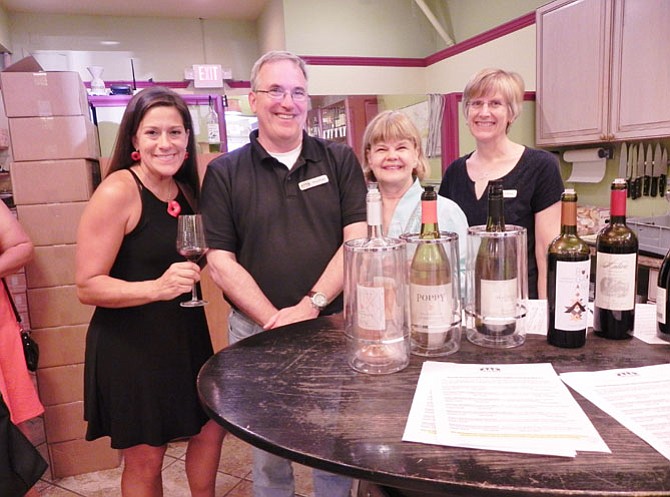 The Woman's Club of McLean held a festive wine-tasting at Chain Bridge Cellars, in McLean, on Wednesday, July 13, from 5 to 7 p.m. to preview its 50th annual Holiday Homes Tour in December. Club members and friends were joined by other supporters – local businesses that are advertising in the tour's guide booklet, stores that will be marketing the tour and vendors who have served in the related MarketPlace in the past. A special guest at the wine-tasting was Paul Kohlenberger, president of the Greater McLean Chamber of Commerce.
The Holiday Homes Tour will take place on Thursday, Dec. 1, 2016, from 10 a.m. to 3 p.m., exactly 50 years since the traditional event was conceived of by a Woman's Club member to raise money for local charities and nonprofits. In more recent years, the tour has been accompanied by the MarketPlace, a fundraiser that features sales of gifts and holiday items, homemade goods, products of local vendors, a silent auction and refreshments.
As is customary, this year's event will provide a tour of four or five large, elegant houses in McLean. Each home will be decorated for the holidays and will highlight family life in McLean. The MarketPlace will be held concurrently at Trinity United Methodist Church, on Dolley Madison Boulevard, in McLean.
Woman's Club members have been working on tour preparations since February, when they began soliciting advertisements for the guide booklet/ticket. Additional efforts over the summer have included selection of the homes, booklet/ticket preparation, publicity arrangements and plans for decoration.
All proceeds will be donated to local charities and nonprofits, such as Share, Inc., Alternative House, the McLean Project for the Arts, Claude Moore Colonial Farm, the McLean Volunteer Fire Department, Fisher House and the McLean Symphony, as well as used for scholarships and education.
Tickets (the booklets) will be available in early October at local businesses, including Mesmeralda's Gifts of McLean, Karin's Florist of Vienna and Great Dogs of Great Falls. Or they may be obtained at one of the homes on the tour. For more information, visit www.mcleanwomansclub.org or call 703-556-0197.