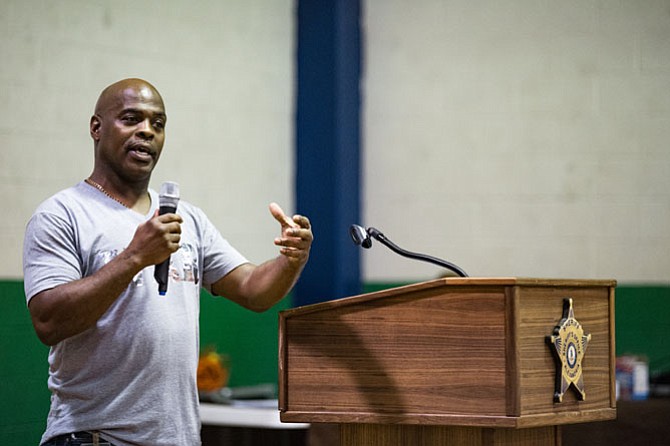 Rows of people sat in plastic chairs in a gym. Each person wore the same dark green jumpsuit, some more faded with age than others, waiting for the guest speaker to arrive. Deputies stood watch as volunteers prepared refreshments on a bright yellow table in the back of the room. The venue was the William G. Truesdale Adult Detention Center, known to most as the Alexandria City Jail, and the speaker was Tony "Da Beast" Suggs, an Alexandria native who recently published an autobiography of his life, entitled "Da Beast Within: Still the Champ."
The book tells the story of Suggs' childhood and early career, his rise to become the number one boxer in the United States and his fall during his struggle with drug addiction. The book chronicles his time spent in the hallways and cells that these inmates know so well, and his ascent to sobriety and community service.
"My book is motivating, inspiring, inspirational, educational," said Suggs. "My book got so many different avenues to it that no matter what family you are or you're from I feel like you can get something from it."
As of 2014, drug abuse is the highest category of arrests among adults in Alexandria, with 613 arrests in 2014, and the third highest among juveniles, with 58. In 1987 Suggs was arrested on his first drug charge, and went to jail again the next year for violating his probation, effectively ending his run at boxing in the 1988 Seoul Olympics.
Now, Suggs is over 20 years sober, and gives back to his community through outlets such as his Shattered Dreams program, which is a drug awareness and prevention program, as well as working with the Substance Abuse Prevention Coalition of Alexandria (SAPCA). He often visits the Alexandria City Jail to speak with current inmates and believes his book is another way to give back to the community. "The book wasn't written for me," said Suggs, "it was written to help someone else, and I feel like I owe them that."
Suggs will host a book signing on June 11 from 7-9 p.m. at Jolley's Restaurant and Lounge at 654 S Pickett Street, Alexandria. To order Tony "Da Beast" Suggs' book, "Da Beast Within: Still the Champ," go to DaBeastWithinSTC.com or on amazon.com.