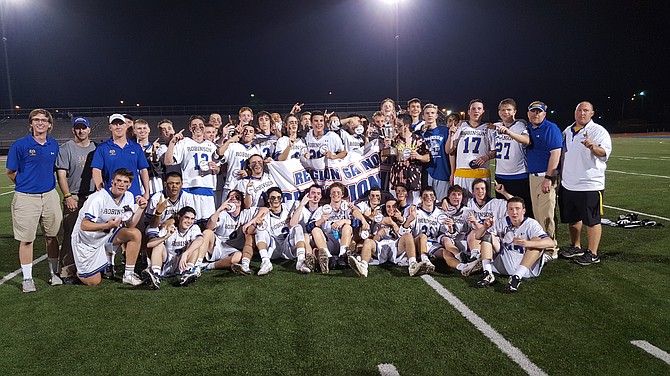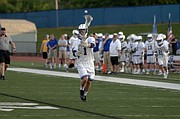 Not long after scoring the game-winning goal, a shirtless Johnny Daniel turned to trigonometry to describe the experience of Tuesday's 6A North region championship game between his Robinson boys' lacrosse team and Woodson.
"I would say it was kind of like a sine of x curve, if you've ever taken trigonometry," said Daniel, a senior attackman. "Basically, we were down and we caught up and we went up, and then we went downhill and then we caught up again and then it stopped there. Luckily, the window that was used cut off where it did."
Another way to put it: Robinson made a pair of crazy comebacks to win its second region title in three years.
The Rams dug their way out of a five-goal hole in the first half and overcame a 13-6 second-half deficit to defeat Woodson 15-14 in overtime at Robinson Secondary School's Coffey Stadium.
Robinson called timeout after Tyler Iriondo won the overtime faceoff and Daniel capitalized on the possession by splitting a double team and scoring the game-winner. The two-time defending state champions improved to 18-2 and earned a first-round bye in the state tournament.
"It was a little bit unprecedented [for us] to be down like that, but I always tell them lacrosse is a game of runs," Robinson head coach Matt Curran said, "and if you win some faceoffs, you can get right back into that game."
The Cavaliers came out strong, scoring the first four goals on their way to a 6-1 advantage at the end of the first quarter. The Rams responded with five straight in the second quarter before Woodson's Noah Guttendorf scored with 1:04 remaining in the opening half, giving the Cavaliers a 7-6 halftime lead.
Woodson scored the first six goals of the second half and appeared in control when a goal by Bobby Solomon gave the Cavaliers a 13-6 lead with 3:35 left in the third quarter. But things started to turn in Robinson's favor when Daniel scored with 1:57 left in the quarter and Woodson was flagged for a two-minute, non-releasable penalty. Man-up goals by Declan Connolly and Austin Henry cut the Robinson deficit to 13-9 by the end of the third quarter and the Rams were just getting started.
"We never got down on ourselves," senior midfielder Danny Krug said. "Our sideline never lost faith. I love those guys --- they've been at it all year, just always being hyped no matter what and they're as much of a reason as everybody on the field that we were back in the game."
Goals by Henry, Daniel and Holden Patterson pulled Robinson within one before Connolly netted the Rams' seventh straight goal with 5:49 remaining, tying the score at 13.
"Trust our offense," is what Henry said went through his mind when the Rams were trailing. "If we trust our offense and run it the way we can, we'll score goals."
A Guttendorf goal gave Woodson a 14-13 lead with 5:25 on the clock but Henry scored the tying goal with 1:14 remaining and the teams went to overtime, where the Rams pulled it out.
Henry finished with five goals and Daniel had four.
"[Daniel] was magnificent today," Curran said. "He was unbelievable. … He was the type of player we need out of a senior, a four-year varsity guy, a three-year starter --- same with Austin Henry. We got the types of games out of those guys that we need from those two leaders and amazing lacrosse players."
Connolly, a freshman, had three goals and two assists for Robinson. Patterson totaled two goals and one assist and Devin Townsend added one goal.
The loss spoiled a strong effort from the Woodson trio of Guttendorf, Solomon and Jackson Miller. Guttendorf and Solomon each scored five goals, and Miller finished with two goals and six assists.
"I was nervous for the defense and the whole losing confidence bit," Daniel said. "They were the ones that had to deal with that strong possession by Woodson. Players like Jackson Miller and Noah Guttendorf really can do magic things with the ball."
AJ Krstulovic and Robbie Gates each score done goal for the Cavaliers.
Robinson will host a state semifinal game on June 7 or 8. Woodson (16-5) will host Madison in the opening round of the state tournament at 5:30 p.m. on Friday, June 3.