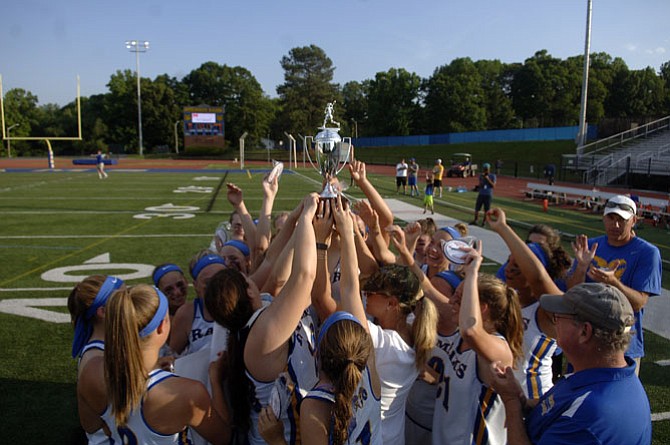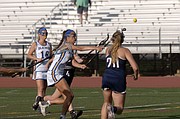 Dan Checkosky watched Tuesday's 6A North region girls' lacrosse championship game with his "hands in his pocket."
The 11th-year Woodson director of student activities was at Robinson Secondary School to support the Cavaliers as they took on the rival Rams. At the same time, Checkosky was pulling for No. 9 on the opposing team ­­­ Robinson junior Katie Checkosky, his daughter.
After the game, Dan Checkosky talked about the awkward situation in a positive light. Katie shared her thoughts, as well ­­­ after she celebrated winning another championship.
Robinson jumped out to an 8-0 lead, built a 10-goal halftime advantage and repeated as region champion with an 18-7 victory over Woodson.
The Rams remained undefeated and secured a first-round bye in the state tournament. The Cavaliers will host Patriot in the opening round of states.
Katie Checkosky, a James Madison University commit, finished with three goals and three assists, including two goals and an assist during the Rams' 8-0 run to start the game.
"I'm proud of Katie's performance," Dan Checkosky said, "... and I'm definitely happy that the Woodson Cavaliers get to host a game on Friday, so that's definitely a win-win situation."
CHECKOSKY, a Cleveland-area native whose wife, Blake, attended Robinson, said he "absolutely" has had conversations with Katie about how to handle Robinson/Woodson matchups and lets his daughter know he loves her and supports her.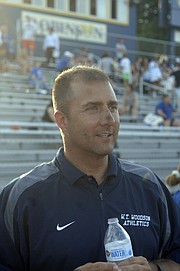 "She wants me to sit on the Robinson side with a Robinson shirt and I want my daughter to do well," Checkosky said. "I want her to do well and I'm happy when her team does well, but it's mixed emotions when Woodson's playing. As much as I care about my daughter, I also care about the Woodson kids. ... I try not to make it about me at all ... but it's difficult. I have a son that's a freshman and another daughter that's 9 years old, so there will be many friendly rivalries."
After games against Woodson, including an 18-13 regular-season Rams win on April 15, Checkosky hugs Katie and tells her he's proud of her, and said he hasn't received any complaints for doing so.
"I think they do a great job" of handling the situation, Robinson head coach Liz Case said. "They absolutely do a great job. Dan is definitely one that doesn't want to touch certain things, he just kind of watches from a distance. Of course, he's a father, but he's a very professional person about it."
How does Katie feel about the situation?
"I just want to make him proud," Katie said, "and ... I know he works at Woodson and I go to Robinson, so there's tension because we're [rivals], but I know there's no rivalry in the house because he still loves me."
Katie and the Rams made their fans proud Tuesday night, improving their record to 19-0 while extending their win streak to 34 games, dating back to last season. Robinson's last loss came against Georgetown Visitation on March 31, 2015. The Rams haven't lost to a public school opponent since 2014.
While Robinson has struggled at times with slow starts, the Rams wasted no time burying Woodson. Kaitlin Luccarelli got Robinson on the board with a free position goal 47 seconds into the contest and the Rams kept pouring it on.
Luccarelli's free position goal with 16:07 remaining in the first half gave Robinson an 8-0 lead. Taylor Caskey scored with an assist from Checkosky with 6:42 on the clock, bumping the Rams' lead to 11-1.
Caskey scored again in the final minute of the half, with an assist from Luccarelli, and Robinson entered halftime with a 13-3 advantage.
"The past few games, we've kind of had slow starts and we came into this game knowing that Woodson's a very good team and they'll jump on us," Katie Checkosky said, "and we just had to get the jump first and we had to have our momentum going from the first whistle."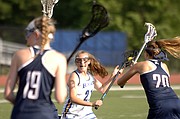 Robinson junior Elli Kluegel, the Conference 5 Player of the Year, finished with six goals and one assist.
"I feel like I've kind of stepped up in my role on the team," Kluegel said. "I feel like I have more of a leadership role. It's not only because ... I have more opportunities, [but] with the [2015] class graduating, someone had to step up. I think Katie and I both did a really good job of doing that our junior year. ... For myself, this season has been a wake-up call and I'm really proud of how I've stepped up to the challenge."
Caskey finished with four goals and three assists and Luccarelli had three goals and three assists.
"Kaitlin, Katie and I have been playing together since sixth grade, so we already know everyone's tendencies and how they work," Caskey said. "Elli has kind of fit right into our little puzzle of attackers."
Robinson goalies Danielle Valenti and Maddie Malone and three and six saves, respectively. Emily Skrzypczak, MegMarie Stanchi and other Rams defenders helped hold Woodson to one goal in the first 20 minutes.
Woodson's record dropped to 13-4. Meredith Mackay and Gina Gorgone each scored two goals for the Cavaliers, and Natalie Gates, Emma Vinall and Grace Stephan each had one.
ROBINSON will host its state semifinal matchup on June 7 or 8. With one more victory, the Rams would reach the state championship game for the second straight season. Woodson would need to win twice to set up a potential third meeting with Robinson ­­­ and another awkward situation for a father and daughter.
"We're not going to come out trying to get [the Cavaliers] because Katie's dad is the AD," Caskey said, "but it feels a little good to know Katie's going home to tell her dad that she beat Woodson."