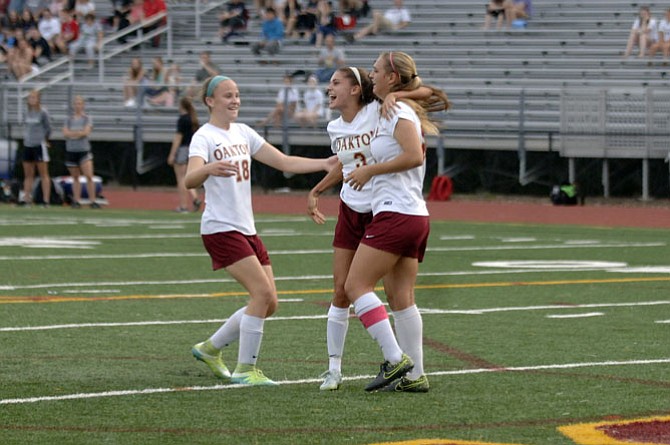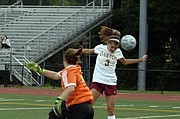 With a chance to avenge an early-season loss, the Oakton girls' soccer team was looking for revenge against the Madison Warhawks on May 26.
Oakton senior Alex Marquis exacted that revenge, as she headed a perfect cross from teammate Anya Heijst in just the seventh minute to give the Cougars all the room they needed as they defeated the Warhawks 1-0 to move onto the regional semifinals.
"I think we've progressed nicely throughout the season," said Oakton head coach Kasey Davenport. "They beat us the first game of the year, we were still figuring things out but today we did a good job of executing when we needed to."
Oakton was able to control the pace nearly the entire game. The only goal happened after a steal by Heijst in the attacking zone which led to her cross right to the head of Marquis. After that goal, the defense and senior goalkeeper Sam Weaver took over.
"The defense was great," said Davenport. "[Weaver] came up with big saves when we needed them and they all kept their composure down the stretch which was huge."
Chances were slim for Madison early in the first half, but a couple of great saves by Weaver were key, including saves in the 12th and 18th minutes. The game was physical, as fouls were called often and a yellow card was issued to Oakton's Caitlin Violet in the 35th minute.
Madison couldn't put together any offensive pressure until the last 10 minutes of the game. When asked about the difference from the first meeting, Madison head coach Devon Dowell didn't think there was much of a difference.
"I think it was just two great teams going at it tonight," she said. "It was the heart in the beginning and the heart in the end. I think there were some different formations but I don't think that was anything we didn't expect."
Madison got great chances from Hannah Ravesteijn and Faith Lee down the stretch but Weaver was up to the task. The final game clincher was a save made by Weaver in stoppage time on a rocket off the foot of Julia Leas, which Weaver was able to tip just above the crossbar.
"I thought we had some great shots on goal and a lot of good attempts," said Dowell. "They have a good goalkeeper in [Weaver] but I thought we played well enough on our part we just couldn't put it away."
Oakton (16-1-1) will move on to host T.C. Williams at 7 p.m. tonight in the regional semifinals.
"All season we've just been taking it one game at a time and we just go game by game," said Davenport. "We just have to make sure we take care of what we have to when it's time."