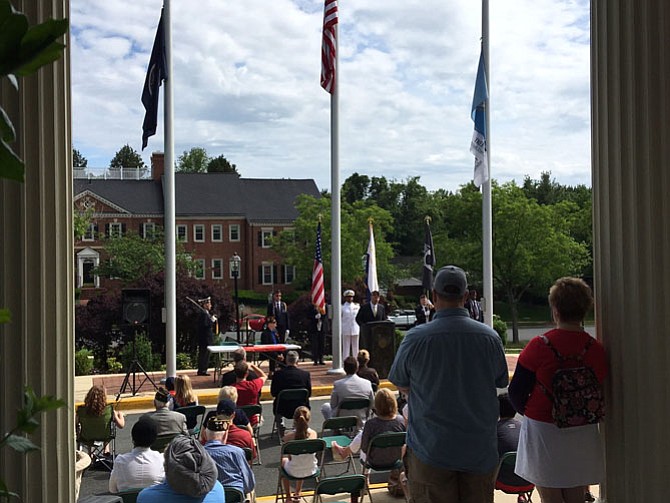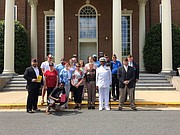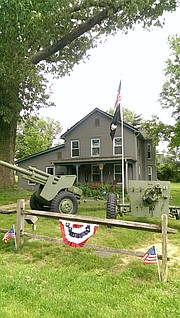 Aaron Coffin of Fairfax is proud to say "Happy Memorial Day."
Some people say the national holiday to honor fallen soldiers should be sullen, reflective affair. But the ten-year Army veteran said he wouldn't want it that way. Nor would anyone he's served with.
"My service was voluntary," he said. "I'm glad to do this for you, so others don't have to. The last thing I'd want anybody to do was think back about my service and feel bad because it ended in death."
Coffin said people may not notice, but flags are only flown half-mast on Memorial Day until noon. After that, they're raised back up the pole.
Memorial Day, he said, is a day to not only remember and honor people who have served and perished, but also to "celebrate the freedoms they fought for, celebrate their sacrifice.
"It doesn't have to be black, mourning shrouds and heavy hearts all day," he said.
Prior to noon on Memorial Day, Coffin helped lead a remembrance ceremony hosted jointly by the Veterans of Foreign Wars Post 8469 (Fairfax Station) and American Legion Post 177 (Fairfax).
Due to soggy ground, it was held on the steps of Fairfax City Hall. The bulk of the program comprised elected officials, veterans and community members reading the names of fallen soldiers from Fairfax County or Fairfax City.
After each name, a tap from the VFW's one-foot World War II U.S. Navy bell rang out.
"When you hear the name, the bell, it really sinks in that that is a life that is gone," said Jacob Flores of Vienna, who was commander of the VFW 8469 post before Coffin. "The sound makes it more vivid."
Coffin also said it was to "add punctuation, severity, solemnness to the significance of the name."
The two group's list of soldiers goes back to World War I and is added to each year. The reading of names took about half an hour.
"It makes it personal, that they're not just a number," Flores said. "We all get a number when we're in the military. It becomes more meaningful to pronounce your name. You feel it. There's a sensation you get that."
For Del. David Bulova (D-37), one name that sticks out each year is James W. Robinson, namesake of his high school, where his children now attend.
"Realizing these are people from Fairfax County, Fairfax City, who have died to give us the freedoms we have today, is very emotional," Bulova said.
"When you think about the fact these were our friends, neighbors, it's hard not to focus on the fact that they are no longer with us."
Bulova, who read ten names of WWII veterans, said Fairfax Councilmember David Meyer told him one of the soldiers whose name he read still has family living in Vienna.
In his remarks, the Bulova mentioned his father is military, as were both of his grandfathers. He also still gets to see his dad. The grandparents made it home from WWII and died with family and friends not too far away.
"This is about those who didn't get to do that," he said. "Now we are their family. We go ahead and celebrate them, and make sure we're there for them as well."