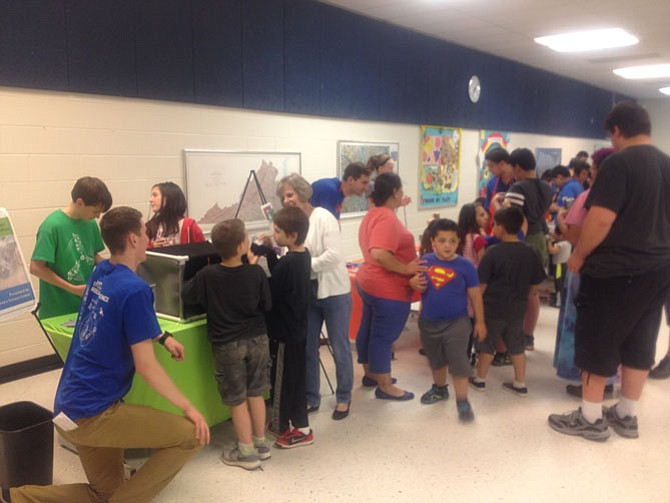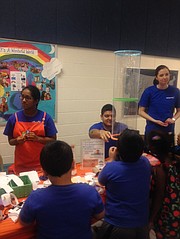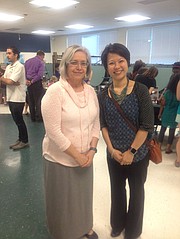 On Tuesday, May 24, families and friends of students enrolled at Reston's Dogwood Elementary School attended a free, family science night at the school cafeteria. The Children's Science Center, based in Fairfax, sponsored the program. Also attending the event were Dogwood Principal Mie Devers and volunteers from Orbital ATK's EPIC program. "I am really pleased with the turnout," said Principal Devers.
"I am teaching binary numbers, and the kids here love technology," said Orbital employee and event volunteer David Kimpton.
Many of the school staff welcomed the opportunity to share and display scientific knowledge to children. "This is such a great opportunity for the kids to have these hands--on learning experiences," said Jackie Kwon, a STEM teacher at Dogwood. "I think it is fabulous to see young students performing science at hands--on stations," said Dogwood Elementary teacher Mark Moseley, who has taught at Dogwood Elementary for 16 years.
The event displayed how both a school and business community can come together. The Children's Science Center is a nonprofit organization dedicated to providing early STEM education to children in Northern Virginia. The organization has a permanent interactive exploration center in Fairfax that incorporates traditional museum exhibits with cutting edge discovery experiences. Dogwood Elementary teacher Linda Martin, who has taught at Dogwood for 15 years, welcomed opportunities to work and connect with the Children's Science Center.
Executive director of Children's Science Center is Adalene "Nene" Spivy, an engineer with 25 years of management experience and over a decade of work with children's museums.
Employees from the Dulles branch of Orbital ATK's Emerging Professionals Investing in Careers (EPIC) program volunteered time to support a local Family Science Night. For two hours, elementary school students learned about basic scientific principles by engaging in several educational, interactive and hands-on activities designed to inspire early STEM education. "It has been fun, and a good experience for the kids," said Matt Regan, an engineer with Orbital.