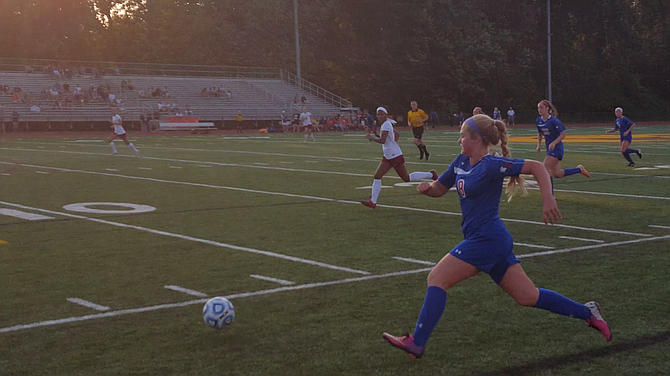 As far as Caroline Bates is concerned, the T.C. Williams girls' soccer team is in good shape once it grabs the lead.
After a scoreless first half in Wednesday's region semifinal match against Oakton, the freshman forward put the Titans in a position to win in the 60th minute when her shot ricocheted off the far post and into the net. Four minutes later, she added a second goal and TC was on its way to uncharted territory.
T.C. Williams defeated Oakton 2-0 on Wednesday in the 6A North region semifinals in Vienna. The Titans earned a spot in the region championship game and secured what is believed to be the first state tournament berth in program history.
The Titans will travel to Haymarket tonight to face two-time defending state champion Battlefield in the region final at 7 p.m.
Bates' first goal of Wednesday's match proved to be the winner, though the freshman said she didn't think her shot from the right side of the field that bounced off the left post was going in.
"I thought it was going wide," Bates said, "but then it hit the post just right, so it went in."
Did the goal change Bates' confidence level?
"It definitely changed mine, because I know that we can hold a one-goal lead and we've been playing well and we just needed to finish one," she said. "Once we finish one, I know we'll get more."
Four minutes later, the Titans had an insurance goal when Bates blasted a shot over the head of the Oakton goalkeeper.
"She's just really composed and she surprises when you when she gets the ball at her feet because she's a lot faster than you can tell at first," TC head coach Ally Wagner said about Bates. "… She's really composed and when she can get a good touch on the ball, she just sinks it."
While Bates provided the offense, TC produced another strong defensive effort. A converted second-half penalty kick by Chantilly in the opening round is the only goal the Titans allowed in their first three region tournament games.
On Wednesday, seniors Hannah Bates, Philomena Fitzgerald, Celeste Claudio and Alex Milliken, sophomore Claire Constant and junior goalkeeper Savannah Richardson helped TC earn its second consecutive shutout.
Richardson finished with 13 saves.
"We have an amazing defense, and then Savannah Richardson, our goalie, has just been coming up with some amazing saves," said Wagner, a 2004 T.C. Williams graduate. "… [S]he's been huge fur us."
The victory improved TC's record to 19-2, including a 4-1 win over Woodson in the Conference 7 championship game, giving the Titans their first conference title.
Oakton, the Conference 5 champion, finished the season with a 16-2 record.
"We came in expecting a good game," Fitzgerald said, "but we did feel like we have that underdog flare and we're kind of on the rise and we were just building up momentum from each game that we won."
Tonight, TC will face a Battlefield team with an 18-2-1 record. The Bobcats finished runner-up in Conference 8, losing to Patriot in the tournament final.
Battlefield has played in three straight state championship games, winning the last two, and captured the last two 6A North region titles.
What does Wagner think about a matchup with a Battlefield program that has been dangerous the last few seasons?
"Well, so was Oakton and I think we played pretty well against them," she said. "I have all the confidence in the world in these girls. As long as they're all mentally there, I know that we have the talent and the skill and the drive."