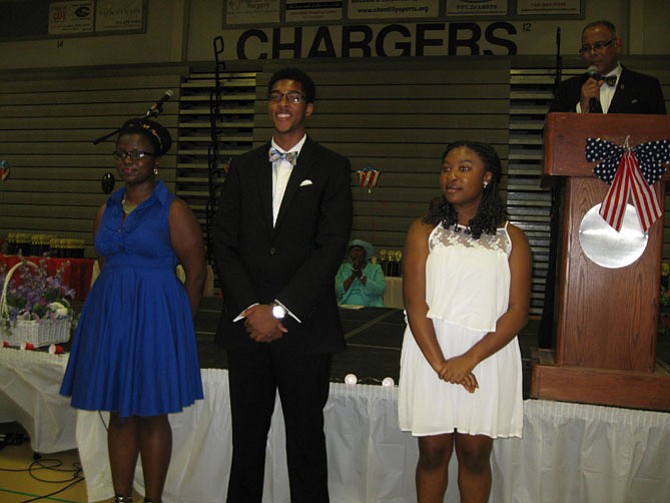 See more minority student awards photos on Facebook.
For the 32nd year, the Chantilly Pyramid Minority Student Achievement Committee held its Youth Motivation and Academic Achievement Awards on Saturday, June 4 at Chantilly High School. In front of its largest, standing-room only crowd, students from several high schools and middle schools were honored for their excellent academic achievements and accomplishments during the 2015-16 school year.
The plaques and trophies were awarded for Commit-to-Excel, Honors GPA, High GPA, Honor Grand, Grand Award, Humanitarian Award, Senior Class Award, Academic Awards and Special Awards. Students from the following high schools were honored: Centreville High, Chantilly High, Oakton High, Westfield High and Mountain View High schools. The middle school students were from: Rachel Carson Middle, Rocky Run Middle, Liberty Middle, Ormond Stone Middle, Franklin Middle and Lanier Middle. This year's theme was "The Pursuit of Excellence — Students, Parents, and Schools — Let's Just Do It."
Dr. Johnny Nelson, who serves as CPMSAC president, said: "We've been in operation for over 30 years and we've seen this program grow. Fairfax County has grown in diversity and that diversity is shown right here. The Chantilly Pyramid is about motivating students. This program started by emphasizing closing the achievement gaps with other students, blacks and Hispanics."
Sylvester "Sye" Smith was honored during the ceremony on his recent retirement from BAE Systems after 46.9 years; 17.5 years of military service; and 33.5 years of service to CPMSAC.
Keynote Speaker Matthew Harris, a senior at Westfield High School, told the crowd that you have two choices as you get older: Option 1 is to complain and Option 2 is to change your mentality. "At the end of the day, everything boils down to individual focus," he said. "You have to realize that it all starts in the mind, so you have to minimize distractions; and select your friends carefully because not everybody's going to support your vision."
He added: "School comes first, and after that, put time into your passions, into your dream. Put time into bettering yourselves … It's all about balance. You have to be able to balance your time if you want to be successful ... Excellence is a choice; choose to free yourself from mediocrity. Start living your excellent life on purpose."