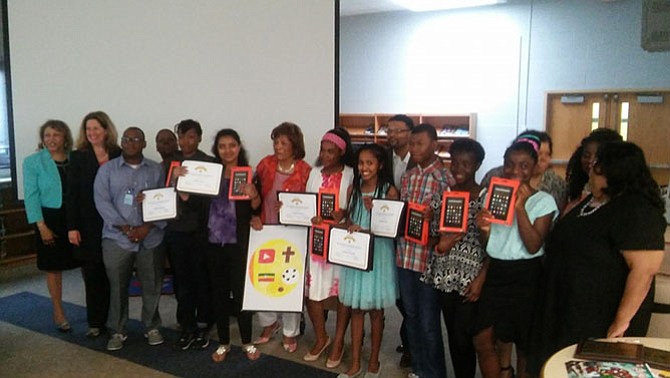 "You can never have too much sky." That sentence was taken right out of one of my favorite works by Sandra Cisneros, "The House on Mango Street." The sky is truly the limit for the student participants of the Reach and Rise for Excellence (RARE) Program at Francis Hammond Middle School because they have the opportunities to hone academic and social skills needed for success in life.
The book is used, cleverly, to connect and engage today's tween/teenagers with their feelings about social issues. Impressive. But, wait there is much more. The Reach and Rise Program is one of the staple programs of the Concerned Citizen Network of Alexandria.
Concerned Citizens Network of Alexandria's mission is to empower a comprehensive community-wide effort, including the Alexandria City Public Schools, the Alexandria city government, faith-based community, parents, and students, in ending Alexandria's Public School dropout rate through researched-based youth programs and youth development.
The founder and executive director of the CCN of Alexandria is former School Board member, Gwen Hubbard Lewis, who after her tenure on the board, knew the work of school dropout rate reduction and student achievement was not done. With her purpose clear, she started the after school program, Reach and Rise for Excellence (RARE). "I wanted to work to integrate community services to support and help children, engage parents, and encourage cultural competence, " said Lewis.
May 26 was an opportunity to celebrate the achievements of the youth who participated in the program. Mayor Silberberg, Vice Chair of the School Board Chris Lewis, long time educator Dr. James Wilson and many other community leaders were there to show support for the CCNA and its many participants. Each student had a chance to speak about what they accomplished and what they received from the program. Tablet recipients were the following outstanding students who solved 1,400 math problems each: Nansira Doumbouya, Yabesera Shimelis, Auriena Gilmore, Maryam Khan, Edna Pokuaa, Shaqueya Mitchell and Rahkeem Smith. Tablets were purchased through the generosity of the Alfred Street Baptist Church.
There are so many people who make this program and others of the Concerned Citizens Network of Alexandria a success. All of the teachers, tutors, volunteers, members of the board, to just name a few. Heartfelt gratitude to Gwen Hubbard Lewis (founder/executive director), Gwen Day-Fuller (chair of CCNA Board), CCNA board members, Principal Pierrette Hall (ACPS), Misti Washington (Program Director of RARE), students and parents of RARE participants.
For more information on the goals of the CCNA and how you can contribute to their continued success visit their website at http://www.ccnalexandria.org.