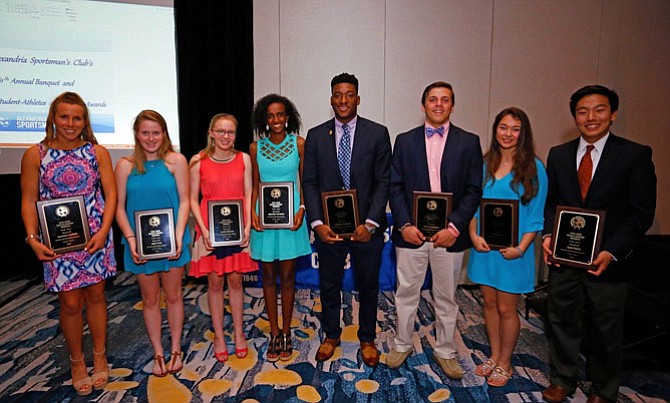 The Alexandria Sportsman's Club presented $16,000 in scholarships to eight high school seniors at the 61st annual Athletes of the Year banquet May 25 at the Westin Hotel.
Receiving $2,000 scholarships were Maggie Lohrer (Bishop Ireton), Mimi Hyre (T.C. Williams), Laura Wilcox (T.C. Williams), Brooke Teferra (T.C. Williams), Taheeb Sonekan (St. Stephen's & St. Agnes), Trey Lovisone (Bishop Ireton), Stephanie Lin (Bishop Ireton), and Sam Price (Bishop Ireton).
"The Sportsman's Club owes a debt of gratitude to our scholarship fund donors," said ASC president John Duke. "Once again Marion Moon made a generous contribution in memory of her son Rick Mann Moon, along with the Skip Goree Family Foundation, Jack Reed of Delta Dental and many other donors that help us recognize the best of our high school athletes."
Maura Munson, an 11-year-old sixth grade student at George Washington Middle School, was surprised with a bicycle from Donnie Simpson Jr. when she was recognized as the Recreation Department Athlete of the Year.
More than 260 people attended the awards dinner as 30 students from across the city were honored for outstanding athletic and academic achievement. Former Georgetown University Men's Basketball coach Craig Esherick gave the keynote address, which focused on the importance of academics and "being a good citizen of your new community" as the students head to college in the fall.
"My thanks to all who attended the 61st Annual Sports Banquet," Duke said. "Because of your support, the evening was a great success."
For more information on the Alexandria Sportsman's Club, visit www.alexandriavasports.org.
More like this story