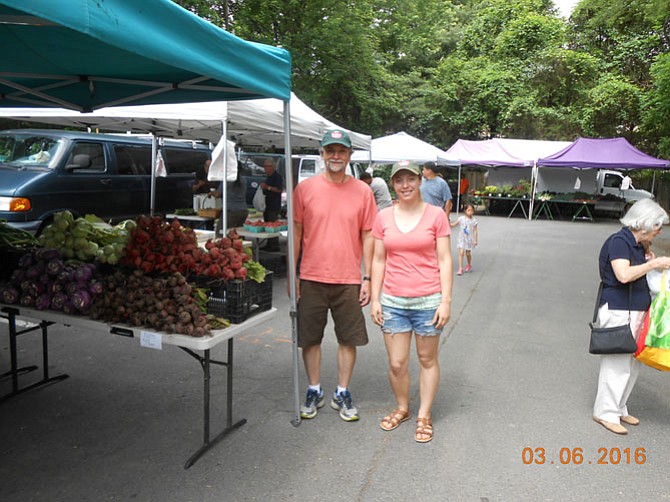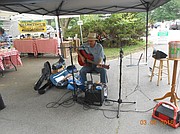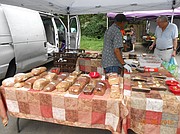 Tucked behind Lewinsville Park's parking lot, the McLean Farmers Market provided food, music and conversation on Friday morning, as the ominous clouds overhead provided some relief from the summer heat. From 8 a.m. to noon, every Friday until Nov.18, the market is open. A wide array of products is available, thanks to seventeen different vendors, some of whom make the weekly trek from as far away as Pennsylvania.
The market offers everything from produce to pastries, all fresh and natural. Valentine's Country Bakery and Meats offers freshly baked cookies and pies, as well as all-natural meats. Owner Valentine Miller, who comes from Orange, Virginia, has been coming to the McLean Farmers Market for 18 years. He also attends four other markets.
A few vendors remarked that, possibly because of the over-saturation of farmers markets now in nearly every town, the McLean Farmers Market, which used to be their best market, is a bit quieter now. The market tends to heat up, though, in the summer once children are out of school. But whatever is lost in size is made up for in intimacy. Sabry Alsharkawi, who runs Sharkawi Farm and is the longest-tenured vendor in his 31st year, said, "I have some loyal customers who I've had for over 15 or 20 years."
Farmers Market Coordinator Chelsea Roseberry said around 40 percent of customers are regulars, and Valentine Miller put that number at nearly 75 percent. The relationship that customers and vendors are able to cultivate is a major draw for the market, as is the atmosphere. Music teacher Larry Rice, who has been playing at the market for four or five years, is largely responsible for that atmosphere.