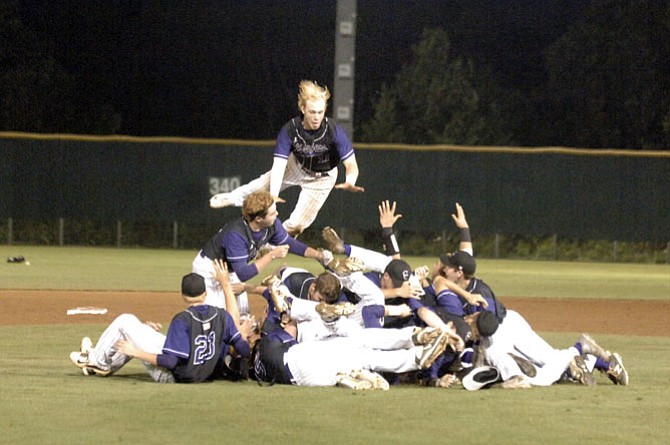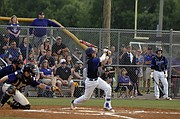 Many of his teammates call him "Pops."
The 6A North region Player of the Year, Jared DiCesare, drilled an RBI double to left-center, sparking a five-run first inning against Battlefield and the Chantilly baseball team won the region championship with an 8-3 victory Friday night in Haymarket.
The Chargers (23-2) experienced heartbreak last season, losing to Madison in the region and state championship games. This time for the Chargers, it was completely different, as they wasted no time jumping on top early in the region final.
"We knew we were going against a good arm," said DiCesare. "He came out with his best stuff, but we're pretty confident in our bats. We're hyped we got it done at the plate early on."
After the DiCesare double, Matt Padeway blooped an RBI single into right field to make it 2-0. Next batter was Brady Ryan, who knocked in courtesy runner Cameron Boddie with an RBI triple to left-center field, making it 3-0.
"It was huge," said head coach Kevin Ford. "We haven't swung the bat like that in a while. The way we squared balls up — it was really good to see. Offensively, we haven't done a whole lot recently, so it was big to jump out in front like that."
Still in the first inning with two outs, Ryan was able to scamper home on a wild pitch by Battlefield starting pitcher Keagan McGinnis, a Virginia Tech commit, to make it 4-0. Then, Chris Pitura would reach on an infield single and move to second on an error. After that, Pitura would score on a Ryan Krueger RBI single to left, making it 5-0, Chantilly, after the top of the first inning.
The next player to step up for Chantilly was starting pitcher Forrest Wagner, as the lefty answered a five-run first inning by throwing only four pitches in the bottom half of the inning to send his team back to the plate in the second.
"Usually, once we get three or four runs, I'm very comfortable on the mound," said Wagner. "So the fact that we got five in the first inning, I was beyond comfortable."
The top of the second started off similar to the first, as leadoff hitter Jared Enders reached on his second walk and DiCesare drove him in, but this time with an RBI single to center. After DiCesare stole second and moved to third on a groundout, he would score after Ryan would strike out swinging, but would reach after the ball squirted away from the Battlefield catcher making it 7­0.
Responding to that, Wagner came back out for the second inning, and used just nine pitches to breeze through it.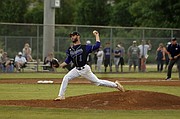 "He's got the guts," said DiCesare about his teammate. "When we need him to do something, he'll gut up and do it. I can say I know I love playing defense behind him because I know he'll get ground balls. He's an excellent pitcher who knows how to hit his spots that's why I love being behind him."
In the top of third after a Krueger single led to a pitching change for Battlefield, DiCesare hit an RBI triple down the right field line making it 8-0, Chargers. However, that was the final hit Chantilly would get, but it was more than enough for Wagner.
In the fourth, after a leadoff single by Battlefield's Tyler Solomon, first baseman Brady Harju blasted a two-run home run to right-center field cutting the lead to 8-2.
After that, it was important that Wagner was able to settle back down.
"Forrest just keeps getting it done," said Ford. "I didn't really care about the home run, [Harju] put a good swing on a good pitch, it happens. But Forrest kept battling, and he's done that for us all year long."
Wagner gave up another run in the final inning, making the final score 8-3, but a fly out to Enders in center shortly after caused a Charger celebration.
Wagner threw a complete game on just 82 pitches. He struck out eight, walked two, and gave up three earned runs.
"After the home run I was just pitching to contact and making them get themselves out," said Wagner. "My team backed me up, I love these guys and they're the greatest. So I hope we can go far in the state tournament."
DiCesare finished the game 3 for 4 with a single, double, triple, and three RBI's. Padeway, Ryan, Wagner, Pitura, and Krueger all had hits for the Chargers.
"I'm not going to lie, I'm looking ahead," said DiCesare. "Our biggest goal is a state championship, we've been there a couple times and come up short. I'm going to enjoy this one for a couple days, but next week we're back at it."
Chantilly, which has finished state runner-up the last two seasons, will face 6A South region runner-up Cosby in the state semifinals at 4 p.m. on Friday, June 10 at Robinson Secondary School.