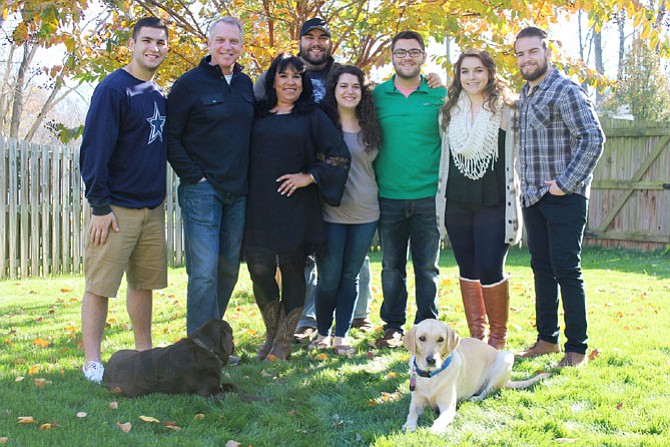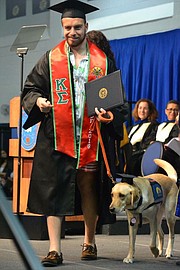 Burke resident Hayden Shock graduated from Gallaudet University May 13 on the dean's list with a marketing degree. That was expected.
Fewer than two months before, he was diagnosed with acute kidney failure. For a healthy college senior -- Shock threw javelin and competed for Gallaudet track and field -- the diagnosis was totally unexpected.
March 17, Shock took a redeye flight home to northern Virginia after presenting on an introduction to language panel in California. After returning home, he complained of swollen ankles and cramping calf muscles.
Shock had spent a bit of time in the sun on his California visit, his mother Mary Ann said. That coupled with the redeye -- they just suspected he was dehydrated.
The track and field team trainer thought Shock might have a blood clot, so they followed up at the hospital. Labs came back confirming no clots, but that his kidney function was only at 25 percent.
Shock had inherited kidney disease. "There is no rhyme or reason," Mary Ann said.
Diabetes and high blood pressure are the main causes of kidney failure in the United States, with the average age of patients in their forties to fifties. Sudden cases that are congenital are less common.
"Our last name is our state of mind," Mary Ann said.
THREE YEARS AGO, Mary Ann donated one of her own kidneys to her younger brother Chris, who has diabetes.

She had to fly to San Antonio for the surgery. Hayden was her escort.
"I'm living proof there's life after donating," Mary Ann said. "My quality of life hasn't changed; it's good, clean living."
The Shocks immediately got Hayden on living donor waiting lists at three hospitals, including Walter Reed National Military Medical Center and Inova Fairfax Hospital, Georgetown and the national transplant registry.
He could also take a kidney from a deceased donor, however a cadaver's organ has only half the life expectancy as one from a living person, which is anywhere from 20 to 40 years.
Without another kidney, Shock faces going to a dialysis machine if his kidney function slips down to six percent.
It's stabilized around ten percent for the last several weeks, Mary Ann said, thanks to blood pressure medication, a cocktail of pills and regular exercise.
"He's in great, great shape," she said, "working out at the gym faithfully. His spirits are great. Just in that waiting stage."
Shock's father Ed has progressed through a battery of compatibility tests as a potential donor. However, because of their age difference, doctors are holding out for someone younger.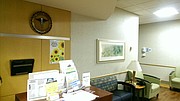 The wait list at Inova Fairfax is around 600, according to Nikki Gage, the hospital's Director of Kidney and Pancreas Programming, and an administrative nurse.
The hospital handles about 100 kidney transplants each year, she said. In 2015, they did 76. Walter Reed did 28.
Nationally, kidneys are the most highly sought organ.
Anne Paschke, spokesperson for the United Network for Organ Sharing that handles all organ transactions around the country, said the total national organ waiting list is more than 121,173. And of those, more than 100,000 need a kidney.
Of the 30,969 total organ transplants in the United States in 2015, 17,878 were kidneys, Paschke said, and 12,250 came from deceased donors while living donors contributed 5,628.
At Inova, Gage said the ratio of transplants from living and deceased donors has been closer to 50-50. She credited Northern Virginia for being a highly populated and educated area where people are aware of the need for organ donation.
"It's a safe surgery," Gage said, "with transplant success outcomes much higher for living than deceased donors."
Though she acknowledges potential donors may drop out of the process at any time, without hard feelings.
This has been a difficult reality for the Shock family, as they've seen several potential donors for Hayden exit the process.
"I don't blame them, I don't," Mary Ann said. "No lost love."
But, she said, "I'm scared. What if he has to go on a donor list for cadavers? We're not even thinking that right now."
THE FAMILY'S FAITH and previous experience with transplantation still give them confidence.
"We've walked this road before," Hayden's father Ed said.
"Hayden has a lot of faith," Mary Ann added. "He's at peace with this."
Shock had to turn down an internship in the Marshall Islands after his diagnosis, but has been accepted into a master's program at the Hult International Business School. His parents are encouraging him to travel and visit friends over the summer.
The Shocks ask anyone interested in learning more about donating a kidney to contact them at KidneyforShock@gmail.com.
To register as an organ donor in the event of a fatal accident or death, more information is available at www.donatelifevirginia.org.