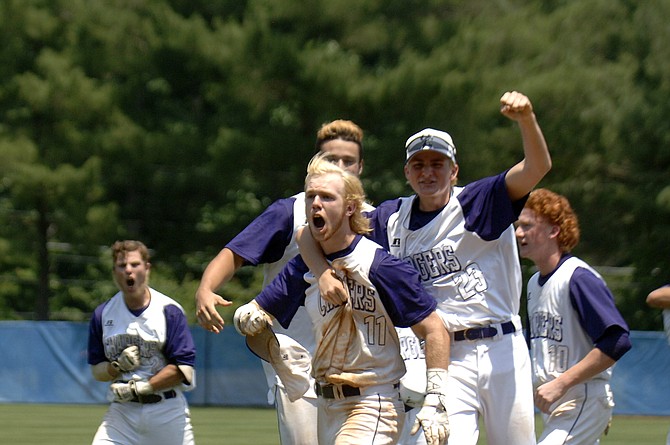 The Chantilly baseball team's improbable comeback against Battlefield in the 6A state championship game on Saturday ended with a euphoric celebratory pile in the infield. It started with senior Forrest Wagner remaining resilient while facing a potential third straight loss in a state final.
Jared Enders' walk-off RBI single capped a three-run seventh inning for Chantilly and the Chargers captured the first state title in program history with a 3-2 win over Battlefield on June 11 at Robinson Secondary School.
After losing to Western Branch in the 2014 state championship game and falling to Madison in the 2015 state final, Chantilly trailed Battlefield 2-0 and was two outs away from yet another runner-up finish when Wagner started a memorable comeback in motion.
Wagner had started on the mound for the Chargers. He battled, keeping Chantilly in the game, but after the left-hander issued his sixth base on balls, he was pulled with one out in the top of the seventh inning and the Chargers trailing 2-0. Chantilly reliever Jake Pasquale got the next two outs and the Chargers came to bat in the bottom of the seventh needing at least two runs after managing just two hits in the first six innings.
With one out in the bottom of the seventh, Wagner, who had less than his best on the mound, ripped a single, bringing the tying run to the plate. It was Wagner's second hit of the day.
"He's an amazing kid that just keeps battling," Chantilly head coach Kevin Ford said. "You saw what he had today — he was throwing fastballs because he couldn't throw anything else, yet he didn't hang his head. He got tired there at the end, so we kind of had to go to somebody else, but he battled and battled and battled and that is Forrest Wagner. We don't get here without him. He won a district championship on the mound; he won a region championship on the mound and got us to the end here. ... We don't keep going if he doesn't get a base hit there."
Second baseman Chris Pitura followed with a groundball to shortstop that resulted in a fielder's choice and an error, giving Chantilly runners at the corners with one out. Designated hitter Ryan Krueger then drove in a run with a sacrifice fly, cutting the Battlefield lead to 2-1.
With Chantilly down to its final out and the tying run on second base, right fielder and No. 9 hitter Garrett Snedeker hit a fly ball to right that dropped for a game-tying RBI triple.
"Everyone was a little nervous," Snedeker said. "We know we're a great team, so we just kept our heads up. We usually have, like, one big inning per game. We knew it was coming up soon and we just got it done that last inning.
"... When you hit a pop fly, you've just got to think that it's going to drop, so I was just running the bases as fast as I could. Fortunately enough, it got over his head. I was already halfway to second, so that enabled me to get to third."
Enders, a first-team All-6A North region selection, completed the comeback with an RBI single.
After rounding first, Enders fell to his back and was mobbed by his teammates.
"It's crazy," Enders said. "Down to our last three outs, thought my high school career might end with a third straight loss in the state championship, but — I don't know, I can't even believe that just happened, to be honest with you ..."
Wagner received a no-decision on the mound. He allowed two runs on four hits in 6 1/3 innings. He walked six and struck out one.
Pasquale pitched 2/3 of an inning and earned the win.
Battlefield starting pitcher James Beasley suffered the loss despite surrendering two hits and no runs through the first six innings.
Battlefield took a 1-0 lead in the top of the sixth when catcher Tyler Solomon led off with a home run over the left-field fence. After center fielder Oakley Herrewig hit a two-out single, pinch hitter Jonah Seagears fouled off four two-strike pitches before delivering an RBI triple and increasing the Bobcats' lead to 2-0.
Battlefield would take the two-run lead into the bottom of the seventh, but Chantilly found a way to score three runs.
"It's really just great for these kids," Ford said. "They have fought and fought and fought and to have a game like this, where we really didn't play that well, it would have been a tough one to sit with, but they came through there at the end and got it done."
Chantilly finished the season with a 25-2 record and won championships at the Conference 5, 6A North region and state levels. The Chargers defeated Battlefield in the regular season, in the region championship game and the state final.
"It's a crazy feeling," Wagner said. "We've been here the past two years, lost it. It's a new feeling, I guess. It's so much more than just the regional or district 'ship."