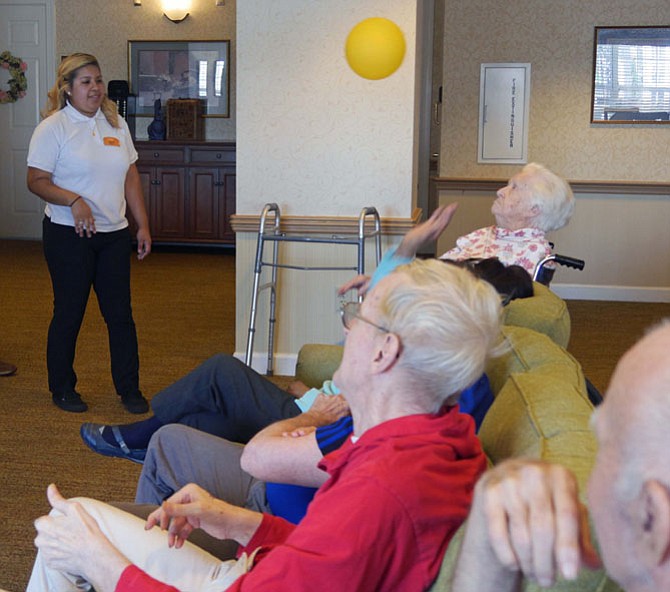 A yellow balloon zooms across the room. An arm reaches up from a wheelchair and bats it back across the room. The balloon flies faster and faster. "Go Hunter, you throw harder than anyone." Some of the residents are down the hall taking naps.
Jenny Bonilla, a staffer at Sunrise of Alexandria on Duke Street says, "We engage the residents; they love to play the balloon toss, and some of them are competitive." She works in Reminiscence at Sunrise. Bonilla explains, Reminiscence is Memory Care for late stage dementia and has about 33-34 living there now.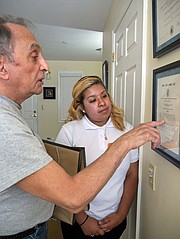 "Also for the ladies they like to have us paint their nails pink or red. And we have one resident who likes to do puzzles and another man who likes to play UNO. But I don't know much about it, and he always beats me." Bonilla adds that they like to keep the residents busy. "We don't want them just sitting around. They are still living." Bonilla moves to the end of the couch and massages Ira's head. "She is such a darling. She just loves it when I do this."
It is mid-afternoon at Sunrise of Alexandria, and snack time is over. "The chef brings out cupcakes or fruit or ice cream. They love ice cream — those Dream-cycles or vanilla. Every time I see them I think that's my favorite ice cream."
"Are you lonesome tonight? Can I hold you tonight?" Old tunes play in the background while Dorothy sings softly on the couch. "Miss Dorothy you're such a wonderful singer." Bonilla adds, "She has the best voice of anyone."
Mabinty Kamara, one of the other staff, dances in circles holding Charles Pearcy's hand while he sits in front of his walker. Later some of them will watch an old movie before dinner. "They love the old movies because they remember things they see on the screen." Marion Strosnider sits in a wheelchair at the end of the couch looking for a conversation. "She is our oldest resident at 101. She is a lovely lady." Her daughter lives downstairs.
Bonilla says that the residents share their stories with her and every day is unique. "They may remember something one day and not the next. Alzheimer's, how do you say, they go through things differently. They might ask me what day it is and then ask me again later." But she says, "They don't seem to get frustrated that they can't remember. They go with the flow. Their days are normal for them."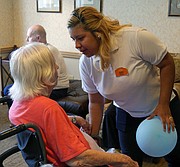 Bonilla walks down the hall. "This is Rachel Stewart's room. She loves to read." A sign on her door says, "A Bookworm Lives Here." Further down the hall she knocks on the door of Alan S. Miller, U.S. Navy. "We have a lot of military here." Miller opens the door and welcomes her into his room, walls covered with medals and plaques. He points to the wall proudly. "This is my Bronze Star for combat in 1973 when I was Lt. Cmdr. on the USS Hollister. See, it says I inspired the crew. I love that part. And here is my Meritorious Service Medal in 1972."
Bonilla says she has been working at Sunrise for almost a year. She got a Certified Nurse Assistant License at 16 but couldn't get a job in a nursing home until she was older. So she applied at Sunrise when she turned 18 "and I was lucky to get this job." She said she did her clinic at Woodbine Rehab and Healthcare Center where she got to go upstairs and see the Alzheimer's patients. It was interesting from the start. I knew what I wanted to do. "
Soon it will be time for dinner followed by two favorite TV shows, Wheel of Fortune and Jeopardy. Some residents will go to bed. "It's very individualized for what they want to do." Bonilla says this is like a second family for her. "When I am gone two days, I can't wait to get back. I miss them all."