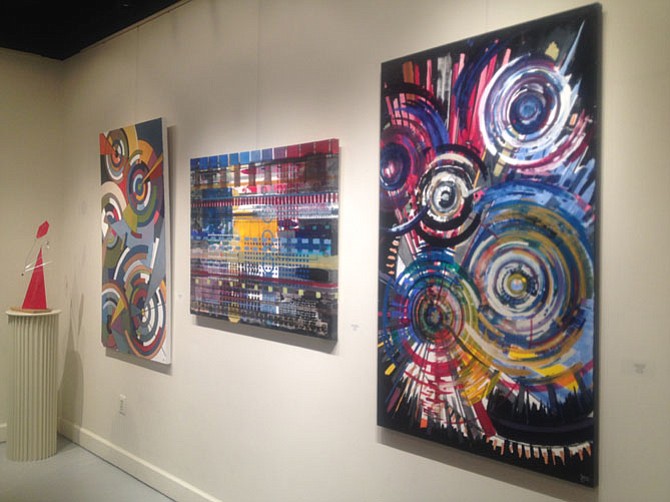 A reception was held on June 11 at ArtSpace Herndon for new exhibit, Truths in False Positives. The exhibit displays the works of two local artists, Sherwood Gainer and Wayne Schiffelbein. For both of the artists, it is their first time displaying their work at ArtSpace Herndon, a community art gallery in downtown Herndon.
Sherwood Gainer's Pattern Recognition: Truths in False Positives offers vibrant abstractions, and explores how visual cues from a canvas can inform a dialog unique to each observer. As mentioned on his webpage, Sherwood dabbles in a variety of artistic pursuits. In addition to painting, he has released several CDs of original music, created music videos and short documentaries, and done some photography and writing. "I try to have a balance of established patterns and rhythms," said Gainer.
Sherwood Gainer's creations are products of over fifty years of varied influences and experiences. Gainer grew up in a home designed by Hugh Newell Jacobsen and nurtured the clean aesthetic he shared with his parents and brother (architect Geoffrey Gainer). His mother pursued opportunities to expose her sons to the diverse cultural experiences around Washington, D.C.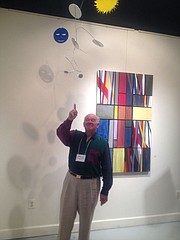 Wayne Schiffelbein's whimsical mobiles complement Gainer's bold paintings in this exhibit. "I like primary colors, they sing," said Schiffelbein. While attending graduate school in New York City in 1964, Schiffelbein visited the Guggenheim Museum and saw a show about sculptor Alexander Calder's kinetic art. "I thought, gee, I would like to do that someday," said Schiffelbein.
Within the past year, he used metal, aluminum specifically, along with stainless steel wire to devise small Calder-like sculptures. Some of the sculptures have a stable base and others hang in space from the ceiling and move freely.
Herndon resident Les Zidal and Brenda Page worked with the artists to set up the exhibit. Zidal is one of the founders of ArtSpace Herndon, the Council for the Arts of Herndon, and the Elden Street Players. Also, he was a high school photography advisor.
The exhibit will close on June 26. On June 25 at 7 p.m. the art gallery will host a music event, the Collegium Cantorum Concert. ArtSpace Herndon needs volunteer docents to greet guests, answer phones and complete sales during gallery hours, training will be provided. The gallery is now accepting proposals for solo and group shows to exhibit in 2017. The deadline for submission is July 31. For more information on upcoming events, visit webpage at www.artspaceherndon.com.