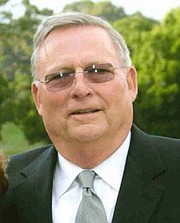 Christopher Edward Eckl, 82, Reston resident since 1977 died unexpectedly while on vacation on the Gulf Coast of Florida. He was a native of Florence, Alabama. He is survived by his wife Elizabeth Eckl of Providence, Rhode Island; four sons: Stephen, Christopher, John and Mark and daughter Kristin Eckl Rodriguez; and his brother William Wray Eckl of Atlanta, Georgia; and many nieces and nephews, cousins and 11 grandchildren. Chris was a graduate of University of Notre Dame and also attended Georgia State University. He worked as a journalist in Alabama and Georgia before becoming Information Specialist for TVA in Knoxville, Tennessee. and continued with TVA in Washington, D.C. After retiring from TVA he worked as a consultant for energy issues at American Public Power Association and Schiff Hardin LLP.
A memorial mass will be held at St. Thomas a Beckett Catholic Church in Reston on Thursday, June 16 at 11 a.m. with a luncheon reception to follow. Visiting hours at Adams-Greene Funeral Home in Herndon, on Wednesday, June 15, 5-8 p.m.
In lieu of flowers donations may be made to Southern Poverty Law Center in Montgomery, Alabama or Living Wages Program in Washington, D.C.