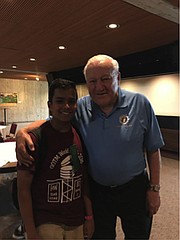 Neil Kothari, 15-year old freshman at Thomas Jefferson High School for Science and Technology, led his team of sixth graders from Hunters Woods Elementary School to the World Finals of the Odyssey of the Mind competition. The competition revolves around creative problem solving and cooperation between team members.
"In a tournament, where all coaches are adults (typically parents or teachers), Neil was an outlier," said Michael Schultz, one of the state level tournament organizers who watched Neil's team progress through the competition year.
More than 200 hours for eight months, Kothari coached his team with very little Odyssey of the Mind experience to ultimately lead them to a shocking second place finish at the Virginia state finals tournament held in Newport News, Virginia. Their placement qualified them to compete at the World Finals competition among more than 800 qualifying teams from 36 U.S. states and 48 countries. The competition will be held at Iowa State University.

The Odyssey of the Mind competition is a STEM-based program that is very popular in the Fairfax and Loudoun County school districts that allows more than 300 teams to compete at the regional level. Millions of students from kindergarten to the college level have competed in Odyssey of the Mind. However, only close to 10 teams advance to World Finals; one of them being Neil Kothari's. The program itself focuses on educating students in basic problem solving and project management.

Kothari's team competed in a challenge commonly titled the "Balsa Structure problem" in which the team must design and build a structure made of only balsa wood and glue to support as much weight as possible. The team was able to build a 15-gram balsa wood tower that carried 1048 pounds, or an amount 32,000 times the structure's own weight.
"At the World Finals competition, the team's structure had the 11th highest weight in the World holding 1065 pounds," Schulz said.
Although Kothari was still eligible to compete in Odyssey of the Mind as a high school student, he chose after eight years of participation to coach a team instead. He is now the youngest coach ever to qualify a team for World Finals.