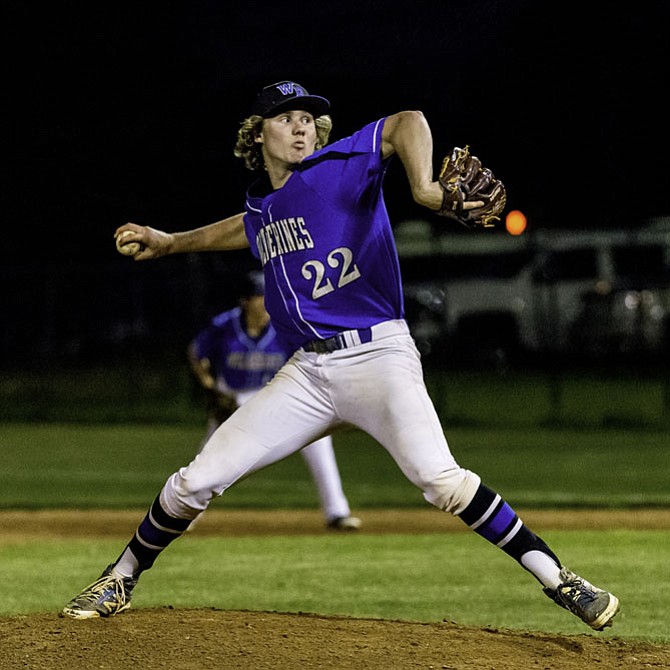 Jamie Sara had a limited role on the West Potomac pitching staff during his sophomore season. As a junior, his workload on the mound increased. By the end of his senior year, Sara had developed into an MLB prospect.
The San Diego Padres selected Sara in the 12th round (No. 354 overall) of the MLB Draft last weekend. Sara, who is signed with the College of William & Mary, wrote in a Twitter direct message that he hasn't made a decision about his baseball future and "would like to keep it personal and discuss it with [his] coaches and family."
Sara ended his high school career with a pair of stellar starts.
Facing Woodson in the Conference 7 tournament quarterfinals on May 16, Sara threw a one-hit shutout and struck out 17, leading the Wolverines to a 2-0 victory that secured a berth in the 6A North region tournament.
On May 25, facing Conference 5 champion Chantilly in the opening round of regionals, Sara allowed one unearned run and two hits in 7 1/3 innings. He walked two and struck out 10 but received a no-decision. West Potomac lost 2-1 in nine innings and Chantilly went on to win the state championship.
Sara finished the season with a 4-3 record, a 2.30 ERA and a 1.09 WHIP. He allowed 28 hits, 21 walks, hit one batter and struck out 74 in 45 2/3 innings. He also earned first-team all-region honors as an outfielder.
"We had inklings that he had a real good shot at being drafted," West Potomac head coach Jim Sullivan said. "I only heard in the last few weeks that he could have gone as high as he did."
Sullivan said scouts in recent weeks told him that Sara was sitting 88-92 m.p.h. with his fastball. Sullivan said the Padres likely drafted Sara, who stands 6 feet 4 and weighs around 200 pounds, for his potential to develop as a pitcher.
"They think he can still add several miles per hour to his [pitches]," Sullivan said. "For a power pitcher, he's got some pretty good control on his curve and his changeup."
Sara is believed to be the second West Potomac baseball player to be drafted. Scott Dobson, a right-handed pitcher and 1995 West Potomac High School graduate, was selected by the Minnesota Twins in the 39th round (No. 1,080 overall) of the 1995 MLB Draft, according to baseball-reference.com. Dobson went on to play at North Carolina State and was selected by the Montreal Expos in the 12th round (No. 354 overall) of the 1998 draft.
"It's exciting for the school, it's exciting for the team," Sullivan said. "I think that most people think that [Sara will] stay in school ­­­ certainly wouldn't fault him for that. ... He deserves this. He has worked his tail off to get where he is."