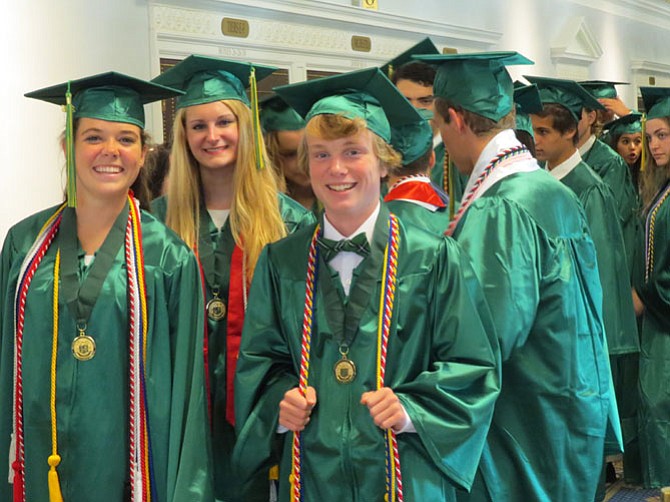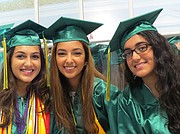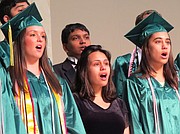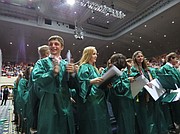 Langley swim coach Ryan Jackson ensured that beloved physics teacher Scott Stone's was part of the Langley High School Class of 2016 graduation.
Jackson read words Stone had previously written: "Have the courage to embrace who you are to become," Stone had written.
"This is a long and difficult journey, but if you're light on your feet," he promised it would be all the more enjoyable.
Stone died unexpectedly Feb. 19, 2016.
For all the accomplishments of the Class of 2016, including conference, region and state championships from multiple sports teams, national championships in scholastic competitions, musical and theater awards, half a million dollars raised for Relay for Life, Principal Fred Amico said he will remember how the class of 2016 "dealt with loss of a beloved teacher with love and equanimity."
He will also remember how students walked the halls with construction going on all around them, needing to use three dozen trailers during the process, "without ever complaining," said Amico.
"Well, with very little complaining," said Amico.
"You have been a joy to work with and I truly will miss all of you," he said.
Langley's Class of 2016 graduated at DAR Constitution Monday morning, June 20, 2016.
IN HIS KEYNOTE speech, Jackson said, "I believe in opening doors, not building walls."
Class president Stephen "Chris" Clark, on the other hand, had a presidential reference of his own: "Thank you for putting your faith in me to make Langley great again," said Clark.
Both asked Langley graduates to remember their parents who helped them along the way.
Clark looked to the stands and thanked his mother and father, as a way for all of the graduates to thank their families.
"I know I couldn't have made it without you guys," said Clark.
"Hold on, let's give a round of applause to all Langley parents," he said.
"Here we go, congrats everyone," said Clark, moments before the passing of the diplomas.
JACKSON HAS ATTENDED the last 12 Langley graduations.
"Perfect attendance," he said.
He reflected on lessons he learned from past Langley graduation speakers, which included former colleagues as well as Supreme Court Justice Antonin Scalia, who helped in the founding of Langley's Case Day program.
He reminded students that "life isn't fair" and that Stone had warned students that they should "expect disappointments."
"Life isn't fair or unfair, life is simply something in which we all take part," said Jackson.
"If we remove all labels of good and bad, we see life for what it is," he said. "Besides, no one wants to attend your pity party."
Among Jackson's additional lines:
"Honesty matters. First and foremost be honest and true with yourselves."
"Be compassionate and empathetic. Like ethics, practicing these are not easy. They will always be worth the effort."
"Be a good person and exhibit good manners," he said. "Don't cheapen your good efforts by expecting something to be given back in return."
"Say 'please' and 'thank you.' Magic has the ability to bring joy to others and we all know that 'please' is a magic word. 'Thank you,' it takes a second to say and all of us have the ability."
"Continue on the path you set for yourselves and surround yourself with a team of motivated people."
"Learn from winning and from losing."
"Graduation is not an ending, it is a beginning."
"Please do not settle. Do not peak in high school," he said.
"The world is there for you to explore and experience."
"Thank you."