Where and When
McLean Community Players present "Footloose" at Alden Theatre, McLean Community Center, 1234 Ingleside Ave., McLean.
Performances July 8 to July 24, 2016. Fridays and Saturdays at 8 p.m., Sundays at 2 p.m.
Tickets: $25 for adults, $23 for seniors, students, tax district residents, $20 for groups of 10 or more.
Call OvationTix at 866-811-4111 or visit http://www.mclean...">www.mcleanplayers...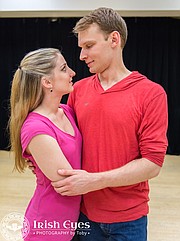 School is out for the summer with vacations coming, but the McLean Community Players (MCP) take on the musical "Footloose" will give local audiences a reason to have a "staycation." After all, it is an infectious musical that answers the question, should dancing be a crime in a small heartland American town?
"Footloose," the stage musical, is based upon the big 1984 hit movie of the same name. It is about a regular teen-aged boy who finds himself far from his city roots. All he wants to do is bring some semblance of joy and happiness to his new hometown so full of sadness. How? Well, he wants to convince some rigid citizens that dancing really is a good thing. "Footloose" is set in the early 1980s, a time very different from now.
With a 30-member cast and nearly 20-musical number, "Footloose" has well-known songs such as "Let's Hear for the Boy," "Mama Says," and "Footloose." The rock music is by Tom Snow, lyrics by Dean Pitchford and Kenny Loggins with book by Pitchford and Walter Bobbie.
Shaun Moe directs and choreographs the production. He promises "to bring all the excitement and dancing of the musical 'Footloose' to the Alden. It is a show with depth about real human relationships and feelings. Emotions will be visual through detailed high-energy, well-executed dance and a great band."
Stage veteran Morgan deHart plays Ren, the new boy in town. While the role of Ren is "a challenging one, it is a dream to be cast as Ren. He is a character with such confidence that others are attracted to him."
Nikkie Culbreth plays Ren's love interest, Ariel. Ariel is the daughter of the local church leader saddened by the unexpected death of his son. "My stage father has completely emotionally abandoned me with his deep sadness. My character wants to find a way to bring happiness back to my family and my town." said Culbreth. "Then I meet Ren, who becomes the light arriving to try to make things better."
Jay Tilley is the Reverend Shaw Moore whose son passed away. His sadness leads him to convince his community to ban dancing and other signs of joy. The Rev. Shaw Moore "is a good man in pain" in need of "emotional catharsis".

With its talented cast and crew, the McLean Community Players invite audiences to take in its dynamite production of "Footloose."