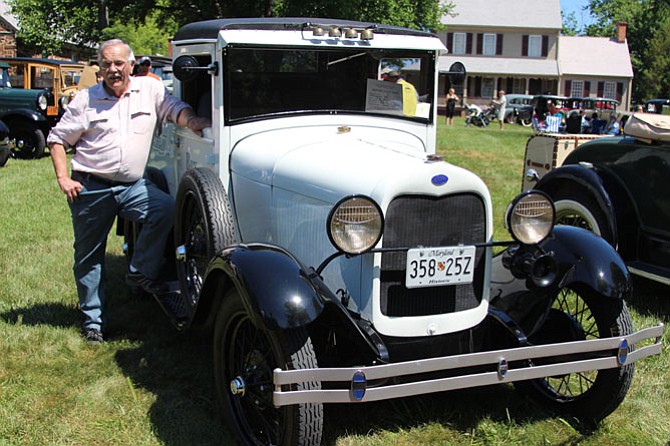 See more car show photos on Facebook.
Families and car enthusiasts gathered at the Sully Historic Site for the 43rd annual car show, which coincides with Father's Day. The event featured more than 400 antique vehicles, ranging from Ford Model T's, Chevelles, Triumphs and more. Cars were divided into 33 categories for judging, and winners were awarded trophies for the best cars.
For some participants, restoring and maintaining an antique car is a hobby. But for others, it's a lifestyle.
"I started restoring cars after I got out of the service in '71," said Rick Heyer of Laurel, Md., a former Navy pilot. He went on to add that jobs were difficult to come by, and he started work in a specialty car shop.
Heyer has rebuilt countless cars since then, one of his most recent being a 1930 Ford Model A Good Humor Ice Cream truck that had been sitting in a barn for more than 30 years. "I found it in 2010, and rebuilt it in seven months. I've had a lot of fun driving it around since," Heyer said. According to a friend of his, this process usually takes years.
But while restoring a vehicle is a long process, sometimes putting one together in the first place can go much faster.
As part of the show, the Nation's Capital Model T Ford Club assembled a 1926 Model T Roadster as a demonstration of Henry Ford's effective assembly line process. In 15 minutes, the car was pieced together by the team and could be driven off.
According to Takoma Park, Md. resident Erwin Mack, the president of the club, the very same chassis has been used in these demonstrations for the past 45 years. "We offer either a speed trial or a historic tour, where we take half an hour and explain the history behind every decision the crew is performing," Mack said. The fastest they've reassembled the car was in about eight minutes.
But Mack's fondness of Model T's developed even faster than that. "In 1983, I was looking for a commercial vehicle to advertise my company with," Mack said. "I found a 192 Model T truck, which I knew nothing about. Now I own five of them."
Now, Mack goes on tours around the country with his wife and Model T's. "That's the most fun thing. We just take seven or eight days and can go to any state."
For those interested in joining the Nation's Capital Model T Ford Club, see clubs.hemmings.com/ncmtfc. Members are not required to own an antique car.