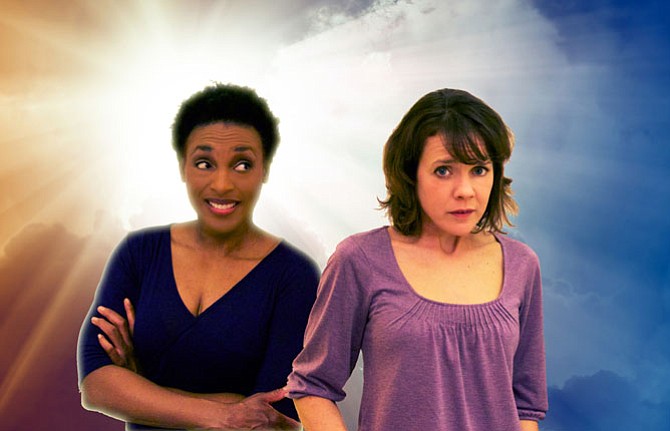 Where and When
Hub Theatre and the Jewish Community Center of Northern Virginia present Redder Blood at the John Swaye Theatre, New School of Northern Virginia, 9431 Silver King Court, Fairfax.
Performances July 8 – 31, 2016.
Tickets $30 adults, $20 for seniors (65+) and students. Call 1- 800-494-8497 or visit http://www.thehub...">www.thehubtheatre....
Note: Interfaith dialogue after every Sunday performance.
In its world premiere at Fairfax's Hub Theatre, "Redder Blood" is a comedic play that "grapples with relationships in a deeply complex, fascinating, funny manner," said Gregg Henry who directs the show. It is a "searching play that will embrace you."
"Redder Blood" is written by local playwright Helen Pafumi. It touches upon faith, belief and self-worth as the play journeys from the serious to the comical; even to the absurdist. The starting point is unease and plenty of noise in a tight knit, interfaith family facing demanding times. Things begin to spiral out of control; but not totally.
Pafumi's play asks some major questions. What should a daughter, Sadie, do if she hears the voice of God giving her guidance while her parents' marriage is breaking apart? What should Sadie do about the "good guy" love interest who has finally stepped into her life?
"Redder Blood" aims to have the audience be part of the questioning on its wide range of comically presented matters including how one's spirituality shapes self-worth.

The cast includes Helen Hayes Award recipient Jenna Sokolowski as Sadie, the young woman who hears the voice of God and then struggles with how to respond. What happens if she does not answer the voice of God?
"While 'Redder Blood" is about "spiritual and supernatural matters, it is grounded in the reality of everyday family life and exchanges family have around the dinner table," said Sokolowski. The play shows Sadie "struggling to control things in her life while asking herself; do I turn a cold shoulder to what I hear or take a risk by opening myself up?"
Helen Hayes Award recipient Dawn Ursula joins the Hub cast as the ever present voice of the Supreme Being.

Why the title "Redder Blood?" It is based upon centuries old guidance given by a wise sage who was asked what to do in a difficult situation with a life in balance. "Who says that your blood is redder than that of the other fellow?"
"Redder Blood" is full of "droll humor, crackling romance, a lovingly dysfunctional family, and deep spiritual searching," said Jeff Dannick, executive director, JCCNV. The J is co-producing the show with the Hub Theatre.

Inviting the Northern Virginia community of theater-goers and the curious to the probing world premiere of "Redder Blood," Dannick added "audiences will be in for a treat. Pafumi's play is hilarious, profound and meaningful."