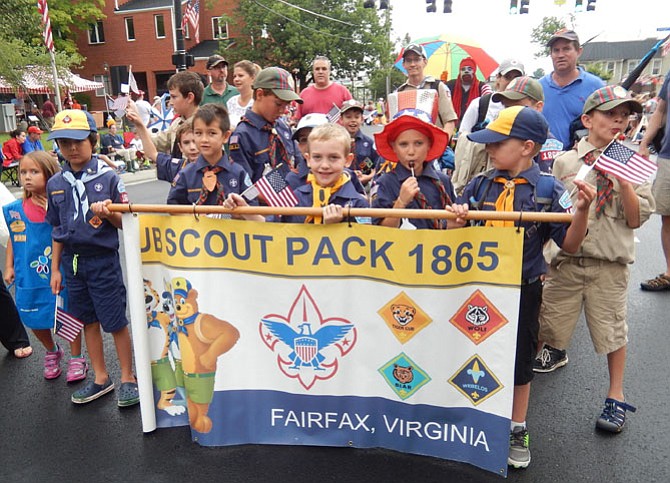 Get ready for Fourth of July fun – because when it comes to this holiday, the City of Fairfax pulls out all the stops. And this year's celebration is the 50th annual, so it promises to be extra special.
There will be a gigantic parade – (no kidding; it usually lasts two hours), food, festivities at the fire station and fireworks at Fairfax High. And as if that weren't enough, there will also be live music and superheroes.
"Without question, the Fourth of July is the best day of the year to serve as mayor," said Fairfax City Mayor Scott Silverthorne. "Our City knows how to celebrate the Fourth better than anywhere in Virginia.
"I've participated in our parade for as long as I can remember. First as a young Cub Scout, then riding with my father (former Mayor Fred Silverthorne) during his time in office, and for the past 23 years as councilman and mayor. The parade gets better every year with more floats, entertainment for kids and terrific marching bands, including our own Fairfax High Rebels."
Parade
The parade starts Monday, July 4, at 10 a.m. at 4100 Chain Bridge Road, travels down Main Street and up University Drive to the reviewing stand on Armstrong Street. On display will be floats, marching bands, large inflatable balloons, bagpipers, dancers, horses and clowns; and, as always, Uncle Sam is the grand marshal.
A Flying Circus flyover will kick things off. Six bands, including the Fairfax High Marching Rebels, Woodson Marching Cavaliers, Washington Redskins Marching Band and the Fairfax High Alumnae Kazoo Band, will entertain the crowd.
Various honor guards, such as the Joint Armed Forces Color Guard, will participate, as will the South County Youth Club All-Star Cheerleaders, Boy Scouts, Girls Scouts, Cub Scouts, firefighters, police, beauty queens, the Fairfax Library Precision Book Cart Drill Team and the McGrath Academy of Irish Dance.
The Fairfax Jubil-Aires will sing barbershop tunes and the Fairfax Kena Shriners will zoom around in miniature cars. Also among the performers will be Rocky's Fiddlers, the Tuba Guy, the Emerald Society Bagpipe Band and the Children of the Light Dancers.
Organizing the parade are the Independence Day Celebration Committee and the City of Fairfax Parks and Recreation Department. And helping make it possible are countless volunteers who've tirelessly donated their time and talents. The event goes on, rain or shine; and except for service animals, attendees should leave their pets at home,
Superheroes, Firefighters
Heroes come to save the day at noon in the SunTrust Bank parking lot, across from Fire Station 3 at 4081 University Drive, Everyone can meet and take photos with their favorite superheroes, including Superman, the Flash, Ironman, Batman, Robin, Spiderman, Supergirl, the Green Lantern, Wonder Woman and Captain America. In addition, an Old Fashioned Fireman's Day will start at the station at 12:30 p.m. and will feature food, drinks, games and a firefighter competition.
Open Houses
Historic buildings will also welcome visitors on July 4. The Fairfax Museum and Visitors Center, 10209 Main St., will be open from 9 a.m.-4 p.m., and the Ratcliffe-Allison House, 10386 Main St., will be open from 11:30 a.m.-1 p.m.
Parking, Shuttle Buses
Streets on the parade route will close at 8 a.m., but shuttle buses will run from 8:30-10:30 a.m. from George Mason University's Rappahannock River Parking Deck, 4400 University Drive; Woodson High, 9525 Main St.; and Fairfax United Methodist Church, 10300 Stratford Ave. They'll return again, from 12:30-1:30 p.m., following the parade.
Evening Show shuttle buses will run from 5-9 p.m. from Woodson High to Fairfax High. Afterward, buses will return spectators to Woodson until 11 p.m. Parking at Fairfax High is limited, so shuttle use is encouraged. Limited handicapped parking is available at both Fairfax and Woodson high schools.
Music and Fireworks
The evening festivities will run from 6-10:30 p.m. at Fairfax High's football field, 3501 Rebel Run. The Hackens Boys will kick things off with some toe-tapping, country-music favorites, followed by the City of Fairfax Band. Then the group, Party Like It's…, will take the stage to perform hits from the '80s to today, before and after the spectacular fireworks display at 9:30 p.m. Spectators are encouraged to bring their own chairs.
Sponsors, Information
The main sponsors are Fair City Mall, 97.1 WASH-FM, and Cox Communications. For more information on the Independence Day activities or to volunteer, call 703-385-7858 or visit www.fairfaxva.gov/July4.