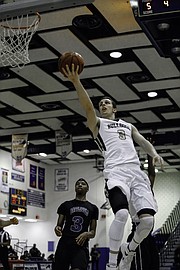 Last year, the Westfield boys' basketball team entered the state tournament on a win streak and left with a lesson in dealing with adversity after a heart-breaking 47-46 loss to Colonial Forge in the championship game.
This year, after Westfield lost to Battlefield in the 6A North region championship game on Feb. 27, the Bulldogs need to pull a 180 at states.
Battlefield defeated Westfield 77-72 in the region tournament final on Saturday at Robinson Secondary School, snapping the Bulldogs' 22-game win streak. Shonari Street made a pair of free throws with 1:54 remaining, giving the Bobcats a 63-61 advantage, and Battlefield held the lead for the remainder of the contest.
"They out-rebounded us and they out-toughed us and that's the moral of the story," Westfield senior Tyler Scanlon said. "They got 50-50 balls and we didn't. They executed a game plan better than we did today, that's really the bottom line. They were the better team."
Scanlon led Westfield with 32 points, including 24 in the second half. His 3-pointer with 2:22 left in the fourth quarter tied the score at 61, but the Bulldogs weren't able to regain the lead.
Unlike last season, when Westfield won 25 straight games before ending the year wondering what could have been, the Bulldogs are facing adversity prior to the state tournament, in need of a three-game win streak to take home the title.
"The good news is, we've got a couple more games left to try to play," Scanlon said. "That one exposed us for a lot of things that we need to look at. We need to go back and look internally. We need to do a lot of soul searching after that one. We got out-worked."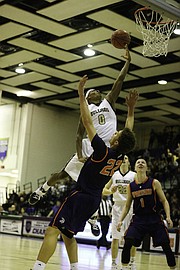 First up for Westfield, the No. 2 seed from the 6A North region, is a state quarterfinal matchup with Hylton, the No. 3 seed from 6A South, at 5:30 p.m. on Friday, March 4 at Robinson Secondary School. The winner will face the winner of Woodside and West Potomac in the semifinals at 9 p.m. on Tuesday, March 8 at VCU in Richmond. The state final is scheduled for 9 p.m. on March 9 at VCU.
Westfield head coach Doug Ewell said Saturday's loss to Battlefield could benefit the Bulldogs.
"I think that we will grow really quick," Ewell said. "It might be the best thing to happen to us. ... Probably deep down we wish it would have happened earlier, and not in a championship game, but at the same time it is what it is."
Westfield's Hank Johnson scored 13 points against Battlefield. Blake Francis finished with 11 points and Kory Jones added 10.
The night before the region final, Westfield overcame a fourth-quarter deficit to beat West Springfield 67-61 in overtime.
The Spartans led by four and had possession with 22.9 seconds left in regulation but couldn't hold on. Francis scored five points in the final 12.7 seconds to help force overtime.
"I'm excited to be still playing," Ewell said after Saturday's region final loss to Battlefield. "There's only eight teams left in this whole state in 6A. We're excited to still have the opportunity [to play]. ... We've got a three-game run. Let's try to win all three."