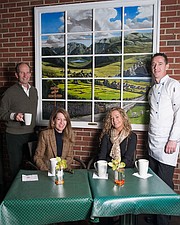 St. Patrick's Day at The Old Brogue
The Old Brogue's 35th anniversary celebration will take place on St. Patrick's Day, March 17. The Snuggery (Katie's Coffee House space) will offer five seatings for a sit-down 3-course meal and music by Pennywhistle from County Donegal, Ireland. Reservations are required.
The St. Patrick's Day Pub Bash next door begins at 10 a.m. and features three bars serving traditional Irish beers, live music all day by Ted Garber, and the $10 cover charge includes an official 2016 commemorative button. For more information or to make reservations, call The Old Brogue at 703-759-3309.
Mike Kearney opened The Old Brogue in Great Falls on St. Patrick's Day in 1981. In preparation for the restaurant's celebration of 35 years as a Great Falls Village institution, Kearney commissioned an oil painting by local Great Falls artist Begoña Morton to celebrate the restaurant's Irish roots.
"While this painting reflects our Irish heritage, it also is a celebration of our community as it is a neighborhood collaboration," Kearney said. "The painting and its creation is a meaningful way for us to commemorate our 35 years in the Great Falls community."
The inspiration for the painting began with a large window frame Kearney rescued from a Great Falls residence undergoing renovation. The frame sat in Kearney's garage for more than two years while considering how to re-purpose it. It was during an Arts of Great Falls exhibit of Morton's oil paintings in the restaurant's Katie's Coffee House that Kearney decided to commission a painting to be framed by the window.

A native of Spain, Morton moved to Great Falls from Belgium in 2006. She studied classical oil paint technique in Spain and with the Arts of Great Falls.
Kearney, Morton, Limerick-born restaurant manager Frances Duggan and John Conway, chef at The Old Brogue for the last 14 years, poured over photos of the Irish countryside to select areas, sites and landscapes of personal significance, as well as recognizable highlights of the Irish landscape.
Conway, a native of County Wicklow, Ireland, selected several of that region's geographical and historical sites. The Wicklow Head Lighthouse to the right in the painting on Ireland's east coast, has been in Conway's family history for four generations and his mother is still the housekeeper at the Lighthouse's bed and breakfast.

"Begoña brings to life images that are our memories of the Irish countryside and our families," comments Conway. "The entire landscape does not exist in reality but within each pane is a memory that is meaningful to each of us in a different way."
Morton meticulously planned the painting so that each windowpane contains its own Irish vignette. According to Morton, "the creation of this painting has been a labor of love for each of us. After identifying the sites and landscapes we wanted to depict, I felt each image needed to be able to function on its own within a pane, as well as in unity with all of the other vignettes when the painting is viewed as a whole."
The mountains of Glenveagh National Park located in Northern Ireland line the top of the painting and are where Kearney spent many days hiking. "Ireland's Glendalough Lake does not actually lie at the base of these mountains but the way it is depicted in the painting you would never know otherwise. It just makes sense," added Kearney.

Also depicted is Ireland's famous Glendalough village, which typifies the beauty and rich history of small Irish villages.
Duggan selected the colorful Irish cottages depicted near the bottom of the painting and the cobblestone fence that traces a path across the canvas. "These images are distinctly Irish and can be seen throughout the country," Duggan said.
Most agree that the painting's most popular image is of the sheep at the lower right. Morton wanted an element that would be particularly appealing to children and was inspired by her own children's response to viewing Old Master paintings in museums. "Traveling with my children through museums, I noticed they were always immediately drawn to the animals depicted so I wanted to make sure I had an image to appeal to even the smallest diners," Morton added. "Although, I think they ended up being everyone's favorite, which is fantastic."
Great Falls resident and cabinetmaker Sam Thompson created a custom frame to surround the window's frame and safely enclose the canvas.
Kearney opened The Old Brogue in the space previously occupied by an ice cream parlor. The bar counter is a recreation of the original ice cream parlor bar and the freezer in The Old Brogue is the original used to store ice cream.

"My father was born in Belfast, and my grandfather ran several restaurants and inns in Ireland. I wanted to open a pub that reflected my Irish roots. For the last 35 years at The Old Brogue, we have tried to bring the unique Irish spirit and cuisine to Great Falls. We want everyone to feel a little bit Irish the minute they walk through the door and when they see this painting, I believe they do."
For more information about Begoña Morton and to view her artwork, visit www.begonamorton.com.
Lisa Colburn Stewart writer and food blogger at www.familyandforks.com.