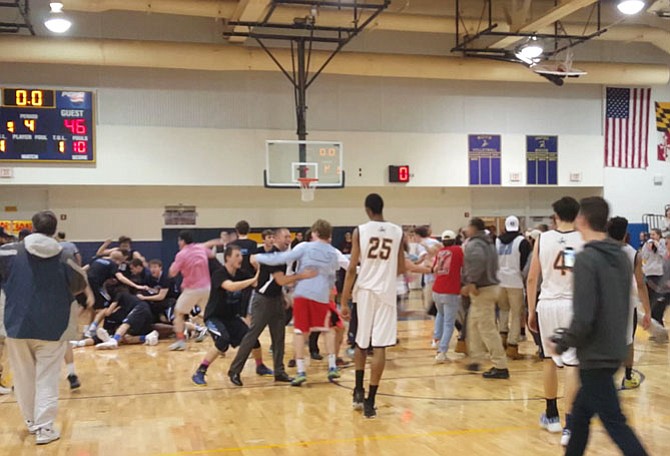 Bethesda-Chevy Chase led by four and the Barons were about to attempt two free throws with 25.4 seconds remaining when Whitman standout Shaq Diboti-Lobe started to assume the worst.
"Honestly, when it was 47-43, I thought we were done," he said. "I was like, my season is over."
Things looked bad for Whitman late in Monday's 4A West section semifinal matchup against rival B-CC. But when the Barons missed a pair of foul shots, they provided the Vikings with an opportunity for a comeback.
After Diboti-Lobe knocked down a 3-pointer and B-CC missed two more free throws, the Viking senior guard — along with all Whitman players, coaches and fans — would soon experience a dramatic emotional swing.
Six-foot-7 junior Max Oppenheim beat the buzzer with a putback in front of the rim, giving the Whitman boys' basketball team a season-extending 48-47 victory at Bethesda-Chevy Chase High School.
Whitman players, coaches and fans rushed onto their rival's home court to celebrate an improbable victory that sends the Vikings to the section final. Whitman will host Blair at 6:15 p.m. on Wednesday, March 2 after the Blazers upset top seed Richard Montgomery in the other Section I semifinal.
"I was real proud; our guys hung in," Whitman head coach Chris Lun said. "They push it to four with under a minute left, Shaq hits a 3 that probably shouldn't have went in and then they miss four straight free throws [and] left the door open."
Whitman trailed 47-46 with 6 seconds remaining in regulation. Oppenheim received the inbound pass near the 3-point line and worked his way into the paint against 6-foot-10 B-CC center Thyjai Byers. After Oppenheim's initial shot attempt missed off the glass, teammate George Wilson attempted to tip the ball in but missed. Oppenheim rebounded the ball in front of the rim and his putback bounced off the back of the iron and in.
"I was able to kind of wedge my way in while [Wilson] was shooting," Oppenheim said, "and I was just right in front of the rim and fortunate to put it right back up."
Oppenheim described the moment as "Definitely the biggest adrenaline rush of my life."
"A burst of happiness," is what Diboti-Lobe said he felt after Oppenheim's bucket. "I've never been that happy before."
Diboti-Lobe finished with a game-high 27 points, accounting for more than half of Whitman's offensive production.
"I thought Shaq carried us in the first half," Lun said. "He hit a couple big shots in the second half, a couple big 3s."
Oppenheim scored eight points for the Vikings, and Wilson and junior guard Jack McClelland each had six.
Senior guard Kevin Holston led B-CC with 11 points and Byers added 10.
Whitman improved its record to 15-9 and has won 10 of its last 12 games.
"I can't even think right now," Lun said. "These are the games you live to coach for."