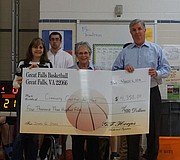 Great Falls Basketball wrapped up their season this past weekend with a double elimination tournament, All-Star games, scholarship awards and by giving the gift of health to Haitian school children.
The tournament games were well fought, well-coached contests, and the All Star games were fun and competitive. The season's end was highlighted by the awarding of the Matthew Poyner Youth Leadership Award, an award instituted by GFHoops in 2015, to honor the memory of Matt Poyner, a member of our community and beloved son, brother, friend, and student-athlete. Four outstanding seniors were acknowledged for their leadership within the GFHoops community. Mackenzie Regen, Jonathan Canfield, Chris Miner and Dante Vasiliadis were each awarded a plaque and $1000 towards defraying their college costs.
This season GFHoops players turned out in full force to support health initiatives in Haiti in the second annual Shots for Shots contest. Each players donated $5 to participate in a basketball shooting contest. Team winners received a T-shirt, age group winners received an Amazon gift card, and the team that scored the most points overall won a pizza party. However, the big winners are the students in Haiti. Through GFHoops' fundraising the Community Coalition for Haiti has been able to institute a mobile healthcare clinic to bring healthcare to students in and around Jacmel, Haiti. GFHoops players and families donated $4350 this year. In a country where a family of four live on less than $2 per day, the impact of this donation will go a very long way.