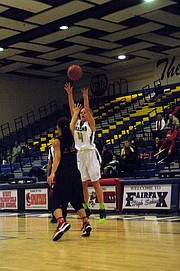 Paige Galiani is the Langley girls' basketball team's go-to offensive player and on Saturday she stepped up in the season's biggest moment.
Galiani knocked down a deep 3-pointer that gave Langley, the No. 3 seed from the 6A North region, the lead with less than a minute remaining and the Saxons held on for a 34-32 victory over 6A South runner-up Landstown in the state quarterfinals at Old Dominion University.
Langley advanced to the semifinals, where the Saxons will face Oakton at 1:30 p.m. today at VCU.
Trailing 32-30, Galiani saved Langley's season with a clutch shot from behind the arc.
"It was off a play we've run many times before, and the team ran it really well and Paige saw her window and took a gutsy shot," Langley head coach Amanda Baker wrote in an email. "… Taking into account that we are in the state tournament and that shot helped send us to the final four, it's hard to think of a bigger shot this season."
Galiani led Langley with 17 points. Ari Aulisi finished with eight points and Jordyn Callaghan added four.
The victory improved Langley's record to 25-5.
"We kept our composure really well, especially after missing free throws and losing the lead," Langley head coach Amanda Baker wrote in an email. "I give the players a lot of credit for being able to bounce back so quickly during the game."
Langley will face undefeated 6A North champion Oakton for the second time this season. The Cougars defeated the Saxons 44-41 in the region semifinals on Feb. 26.
"An area of focus for Tuesday will be starting the game stronger," Baker wrote. "We got down 7-0 early in regionals and had to fight and uphill battle all game."
On Feb. 20, Langley won its first conference/district championship since 1988, beating Fairfax 42-38 in the Conference 6 tournament final.