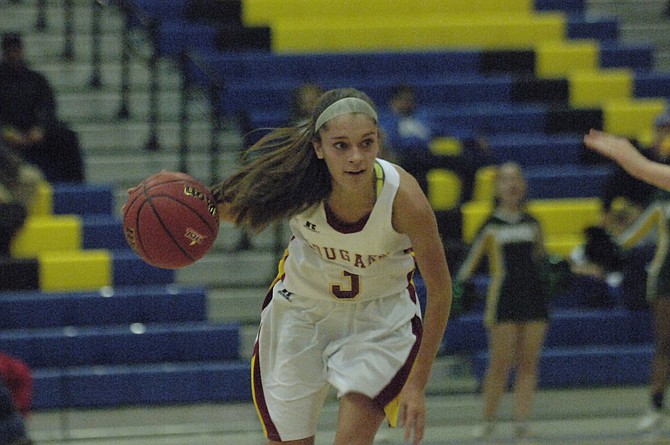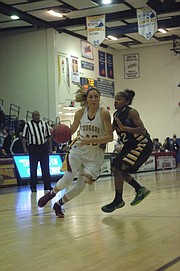 With the Oakton girls' basketball team having secured a return trip to the state final four, head coach Fred Priester explained what the Cougars learned from last year's semifinal loss to Bethel that could help during this season's quest for a state championship.
"Last time, I don't want to say we came out timid, but Bethel dropped about five 3-pointers on us in the first minute-and-a-half," Priester said, "and we were playing scramble ball the rest of the time."
Judging by Oakton's performance against Woodbridge in the state quarterfinals, the Cougars have a firm grasp on what it takes to start a game in non-timid fashion.
Oakton, the 6A North region champion, opened Saturday's contest with a 20-2 run and defeated 6A South No. 4 seed Woodbridge 70-47 at Robinson Secondary School. The Cougars remained undefeated and advanced to the state semifinals, where they will face Langley at 1:30 p.m. today at VCU.
After a pair of Woodbridge free throws cut the Oakton lead to 6-2 with 5:29 left in the opening quarter, the Cougars scored 14 straight points, including a pair of 3-pointers by Maddie Royle. Oakton ended the first quarter with a 23-5 advantage and extended the lead to 27-5 with buckets by Alex Marquis and Delaney Connolly early in the second quarter.
A Connolly 3-pointer gave Oakton a 34-14 halftime advantage and the Cougars led by as many as 27 points in the second half.
"We come out with a really high intensity every single game --- a lot of energy," Connolly said. "We push the ball hard. We kind of adjust our speed depending on the team that we're playing and all of us know our roles so we come out knowing what we have to do to score points."
Marquis said the Cougars weren't taking Woodbridge lightly after Herndon, the 6A North region's No. 4 seed, upset 6A South champion Woodside the previous night.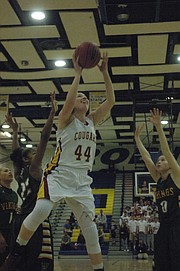 "We knew that Herndon came out and beat the No. 1 ranked team of their region," Marquis said, "so we knew that anything could happen and we knew that we were going to have to come out strong and just play our game and we couldn't take anything for granted."
Royle led Oakton with 21 points, including 11 during the Cougars' dominant first quarter, and grabbed eight rebounds. Connelly finished with 15 points and nine rebounds. Kailyn Fee scored 14 points and knocked down four 3-pointers, and Marquis added 12 points.
Oakton finished with eight 3-pointers.
With so many scoring options, how does Priester decide who gets the ball?
"It's not a seamless process, I will tell you," the Oakton head coach said. "We have certain rules for certain people, but the fact of the matter is, if someone hits one, let's get them the ball again as quickly as possible. … I always have had a rule for as long as I've been coaching, especially when you have shooters: I'll tell you when to stop shooting."
Oakton improved to 29-0 with the win over Woodbridge. The Cougars have won 55 of their last 56 games dating back to December of 2014, including a pair of Conference 5 and 6A North region championships. Oakton's only defeat during that stretch was the 73-63 loss to Bethel in the 2015 state semifinals. Despite falling behind 17-4 in the first quarter, the Cougars had a chance to tie or take the lead in the fourth quarter.
"Last year was [our] first time … going to the state tournament," Marquis said about the players on the 2015-16 Oakton roster, "so I think now that we've been there, we know what it's like and we know how it feels to lose in the semifinals and none of us want that to happen again, so we'll be ready."
Oakton will face Langley for the second time this season. The Cougars defeated the Saxons 44-41 in the region semifinals on Feb. 26 at Lake Braddock Secondary School.
Oakton's last state championship came in 2012, when the Cougars finished 31-0.