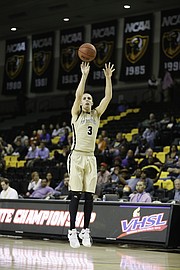 RICHMOND --- Tyler Scanlon walked into the media room at VCU and asked for some water prior to answering questions. When informed none was available, the Westfield star replied that it wasn't a problem.
"I'm good, it's fine," Scanlon said. "I'll work through it."
Minutes earlier, Scanlon worked through the Woodside defense to score the game-winner and send the Bulldogs back to the state final.
Scanlon scored with 2 seconds remaining and the Westfield boys' basketball team defeated Woodside 52-50 in the 6A state semifinals on Tuesday night, setting up a matchup with Oscar Smith in the 6A championship game at 9 p.m. today.
"Truly, at the end of the day, we go to our horses, they go to their horses," Westfield head coach Doug Ewell said, "and our horse took the lead."
With the score tied and time winding down in the fourth quarter, senior guard Blake Francis flipped the ball to Scanlon near the top of the arc and set a screen. Scanlon drove to his right before lofting a shot over three Woodside defenders from just outside the lane.
Woodside came up empty on the game's final shot.
"The whole game they were switching on ball screens and pretty much every screen, so I knew I was going to get a switch there, and I knew I had an open side … and I figured I was just going to attack the basket," Scanlon said. "I was planning to get a layup, but things didn't work out."
Scanlon finished with 26 points, eight rebounds, three assists and three steals.
Westfield held the ball for more than a minute before Scanlon dropped in his game-winner.
"I think my teammates trust me and that's a big deal," Scanlon said. "When your team has faith in you to take that shot, it makes it a lot easier."
Westfield trailed by four early in the fourth quarter. After a Scanlon bucket cut the Woodside lead to two, Francis knocked down a 3-pointer from the right wing and drew a foul. He converted the four-point play, giving the Bulldogs a 46-44 lead with 4:36 remaining.
"My shot really wasn't falling at the beginning of the second half," Francis said, "so I got my confidence boosted a little bit" after the four-point play.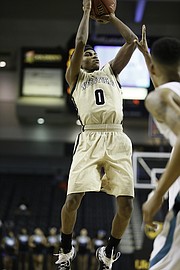 Francis' jumper with 3:48 to go gave Westfield a 49-48 advantage. He finished with 15 points on 5-of-13 shooting.
Westfield's Hank Johnson finished with eight points and six rebounds. Joe Katchmark knocked down a 3-pointer for the Bulldogs.
Tuesday's victory was Westfield's third state tournament game in two years decided by four points or less. Last year, the Bulldogs needed three overtimes to beat Landstown 64-60 in the semifinals. The following night, four missed free throws in the final minute contributed to Westfield losing the state championship game to Colonial Forge, 47-46.
Scanlon said the experience of last season's pressure-packed games helped the Bulldogs get through Tuesday's contest.
"It definitely helped [with] not panicking when you go down 44-40 and you travel twice and things aren't going your way," he said. "You just realize there's so much time left on the clock, there's so much basketball to be played. You just take a deep breath, high-five everybody and move on to the next play. It's bang-bang. Things happen. You get a four-point play and that changes the whole momentum of the game."
Westfield, in search of the first state championship in program history, will now take on Oscar Smith. Tonight's game will be the first time since 1921 that two schools have faced one another in the football and basketball state finals during the same academic year.
The Westfield football team defeated Oscar Smith 49-42 in triple overtime in the state championship game on Dec. 12 in Charlottesville.
"We respect Oscar Smith," said Scanlon, a quarterback and receiver for the Westfield football team. "Their football team proved that they play the right way. They're tough kids, so it's going to be a fun matchup."
More like this story