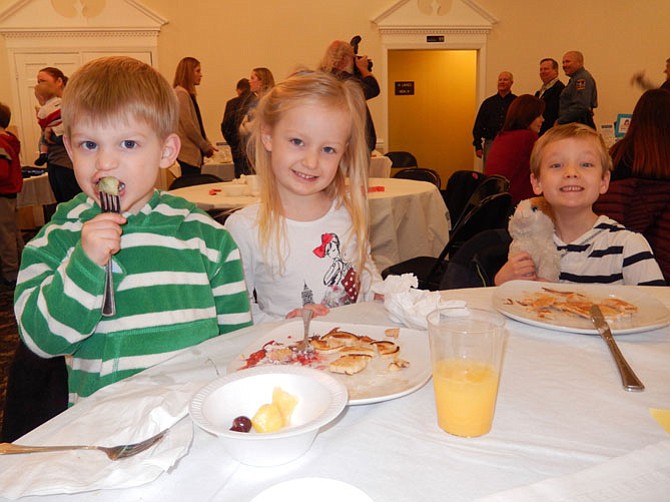 Some 200 people enjoyed a pancake breakfast, Saturday morning, at American Legion Post 177 in the City of Fairfax. But besides offering tasty food, the event also raised money for Ellie's Hats, which collects and donates hats to children with cancer.
Organizing it were Ellie's Hats founder and president, Jay Coakley, board member Brian Drummond and volunteer Kristen Dallhoff. And attendees included local residents, City Mayor Scott Silverthorne, Councilwoman Janice Miller, Police Chief Carl Pardiny and Fire Chief John O'Neal.
"The American Legion generously donated the space, did all the cooking and contributed money toward the food," said Dallhoff. "And we did a 50-50 cash raffle, and the winner donated everything back to Ellie's Hats."
The March 5, buffet-style feast featured red velvet, plain and apple cinnamon pancakes; salted-caramel and strawberry-cream cheese toppings; blueberry, strawberry and apple compotes; whipped cream, chocolate chips, bacon, sausage, eggs, hash-brown potatoes, biscuits, juice and coffee.
FAMILIES AND FRIENDS visited while enjoying a relaxing meal together. And in one corner of the room, Minh Kinsey and Gwen Wotring – who both crochet hats for the organization – sold Ellie's Hats T-shirts, sweatshirts, ball caps, knit caps, tote bags and car magnets.
"This is such a nice event for such a worthy organization," said Miller. "I'm overwhelmed and overjoyed with the turnout," added Drummond.
Also delighted was Coakley, a schoolteacher who started Ellie's Hats in 2013 to cheer up one of his students, a then-5-year-old named Ellie, who'd been diagnosed with leukemia. When she lost her hair from her treatments, she wore hats to school every day, so Coakley organized a hat drive to get her more. Realizing he could bring similar joy to other young, cancer patients – and also raise awareness about the disease – he founded the nonprofit Ellie's Hats.
"The majority of our hats come from hat drives from schools and various groups, such as churches and scouts," he said. "It's a great community-service project. We also have people in every state, plus Canada – and even a lady in South Africa – who knit and crochet hats for us."
In January, for example, Ellie's Hats sent out 44 boxes, each containing three to five hats. Coakley said Wotring, alone, made and sent more than 200 hats, in the past couple years.
"We send the hats to hospitals and clinics, as well as to the individual children," said Coakley. "And we don't just send them to the kid with cancer – who gets all the attention – we also send hats to his or her siblings."
Not many people donate hats for spring and summer, but they're needed then, too. So Ellie's Hats purchases baseball caps, sunhats and crocheted-cotton hats for warm weather, plus cartoon-character hats. "Most of our hats are donated, but we buy some, such as a particular superhero or cartoon character a child wants," said Coakley. "We want them to be special hats because they're something that a kid's going to wear every day."
In addition, the organization supports hospitals such as Inova Children's Hospital that treat pediatric cancer patients. And it recently donated $10,000 to that hospital for its Pediatric Oncology Family Support Fund.
Often, parents will write Ellie's Hats and tell its volunteers how much the gift of a hat meant to their child. "For example, a mom will say, 'Johnny was having a terrible day, and then his hat arrived – and it put a big smile on his face,'" said Coakley. "So our hats also let children know that someone cares."
As for Saturday's pancake breakfast, he was pleased with both the turnout and the generosity of those attending. "Today was great," he said. "It was a family event, and that's what made it so much fun."
Besides that, said Coakley, "We raffled off 20-some items, ranging from $100-$500. And the 50-50 raffle raised $800, yielding $400 for us and $400 for the winner. But the woman who won – former Fairfax High School teacher Marilyn Larsen – gave back her half."
Wotring also had a special time because one of the children she crocheted a hat for came to the breakfast wearing it. Ben Bellavia-Cortezi is 8 and the son of Leslie Bellavia and Meg Cortezi. "
In June 2015, we received the news that no parent wants to hear – that Ben had a brain tumor, specifically medulloblastoma," said Bellavia. "Within a couple of days he had the first of two brain surgeries and was on a treatment path which included in-patient physical rehabilitation, 30 radiation treatments to his brain and spine and high-dose chemotherapy, basically a very long road ahead."
Nonetheless, she said, "Ben's inquisitive nature, maturity and love of all things silly have made him a hospital patient favorite. And his bravery and positive attitude are incredibly inspiring to his family and friends."
When Bellavia discovered Ellie's Hats last July, Ben hadn't lost his hair yet, but she was researching all organizations dedicated to helping children. "I wanted Ben to smile and have moments of happiness during this difficult ordeal," she explained. "When we received our first shipment of hats last summer, he was excited to receive the T-shirts and hats and just know that someone else out there was thinking of him."
SHE SHARED a picture of Ben in his new hat with Coakley, who posted it on the Ellie's Hats Facebook page. Ben was wearing a Star Wars T-shirt in the photo and Coakley asked if anyone could find him a Star Wars hat. "We then received a few shipments of Star Wars hats, but there was one in particular that Ben loved," said Bellavia. "It was the hand-crocheted R2D2 [that Wotring made], and it's his favorite."
For more information on Ellie's Hats, go to ellieshats.org.