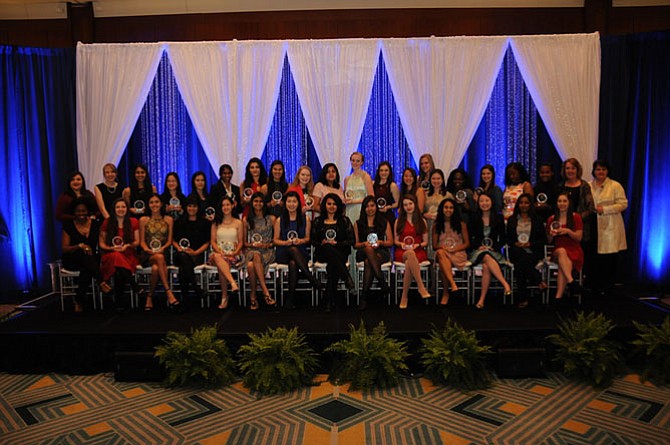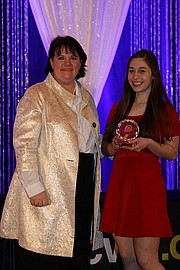 McLean High School junior, Vanessa Barlow, received the 2016 National NCWIT Award for Aspirations in Computing.
The award, sponsored by the National Center for Women and Information Technology (NCWIT) recognizes young high school women for their computing-related achievements, proven leadership ability, academic performance, and interests as part of an effort to encourage more young women to choose careers in technology.
Award winners were selected from high schools across the United States for their outstanding aptitude and interest in information technology and computing, solid leadership ability, good academic history and plans for post-secondary education.
Vanessa said that she appreciates all of the opportunities provided to her from Girls Who Code, Girls in Technology, as well as her computer science and academy teachers.
Vanessa is an alumna of Girls Who Code. She knows how to code in seven computer languages. During her summer at Girls Who Code, Vanessa co-designed an app that helps girls and women get involved with technology, find nearby mentors, and spread awareness of upcoming tech events. Vanessa is a member of the Girls in Technology Program that has provided her with opportunities to network with technology professionals in the D.C. area. Vanessa has been recognized as a leader in technology at her school as she was chosen to be the academy ambassador for the cyber-security Computer Systems A + class where her goal is to encourage middle school girls to enroll in the academy. Vanessa loves to compete in hack-a-thons with her friends and is currently working towards a Computer Systems A+ certification. As she is interested in cyber security, she is a co-captain with her sister of a Cyber Patriot team. Vanessa hopes to attend a 4-year college and earn a degree in computer software/hardware engineering or earn a degree in cyber security. She is very passionate about technology and wants to encourage other girls to pursue technology careers. Vanessa hopes that in the future she can build something that makes a difference in the world.
Vanessa Barlow is one of 35 national award winners out of over 3,100 applicants. As part of her prize, Vanessa won an all-expense trip, sponsored by Bank of America, to the National Award ceremony on March 4 at the Ritz Carlton Hotel in Charlotte, N.C. The schedule of events included mentoring, networking sessions, and remarks from workforce representatives on real-life examples of computing applications. Each award recipient received $500, a laptop computer, and two engraved trophies – one for her and for her school. The award also qualifies the winners to numerous scholarships at colleges and universities.
For more information, go to www.ncwit.org.